WooCommerce
Get started with the WooCommerce source!
Connector Details
Connector Versions
| Name | Version | Stage | Description |
| --- | --- | --- | --- |
| WooCommerce | v1 | GA | Supports WooCommerce accounts |
Get your API credentials
Inside your WordPress admin view, head to your WooCommerce Settings > Advanced > REST API


WooCommerce REST API settings
From here, select the Add key option to create a key for the integration.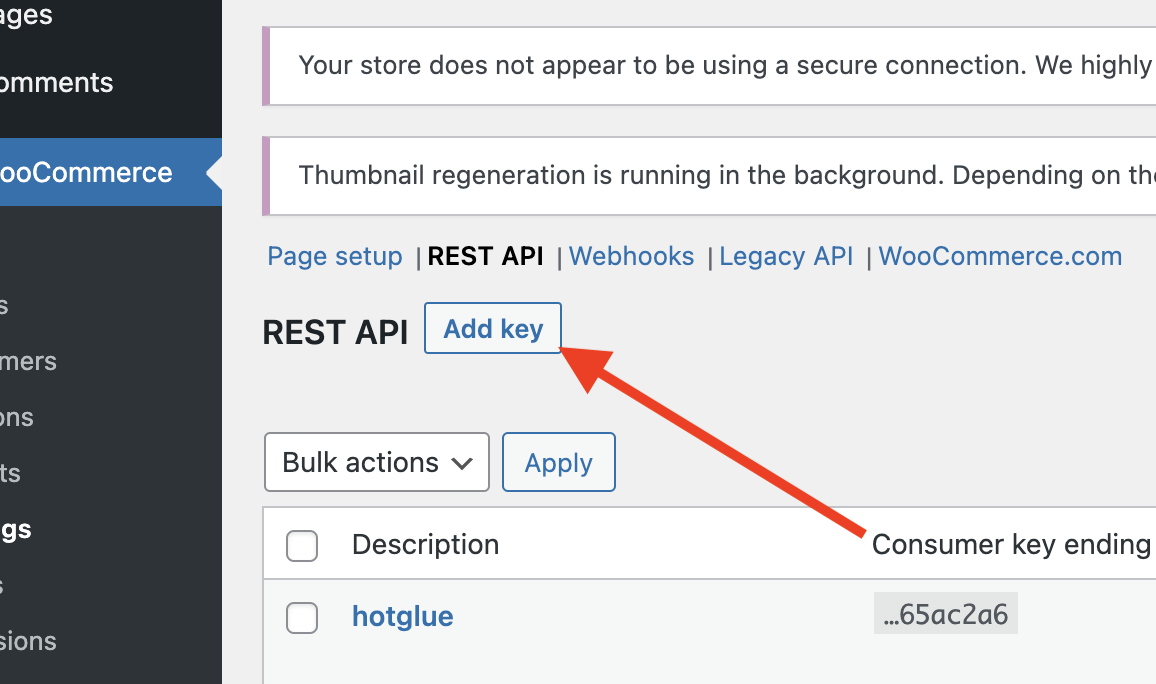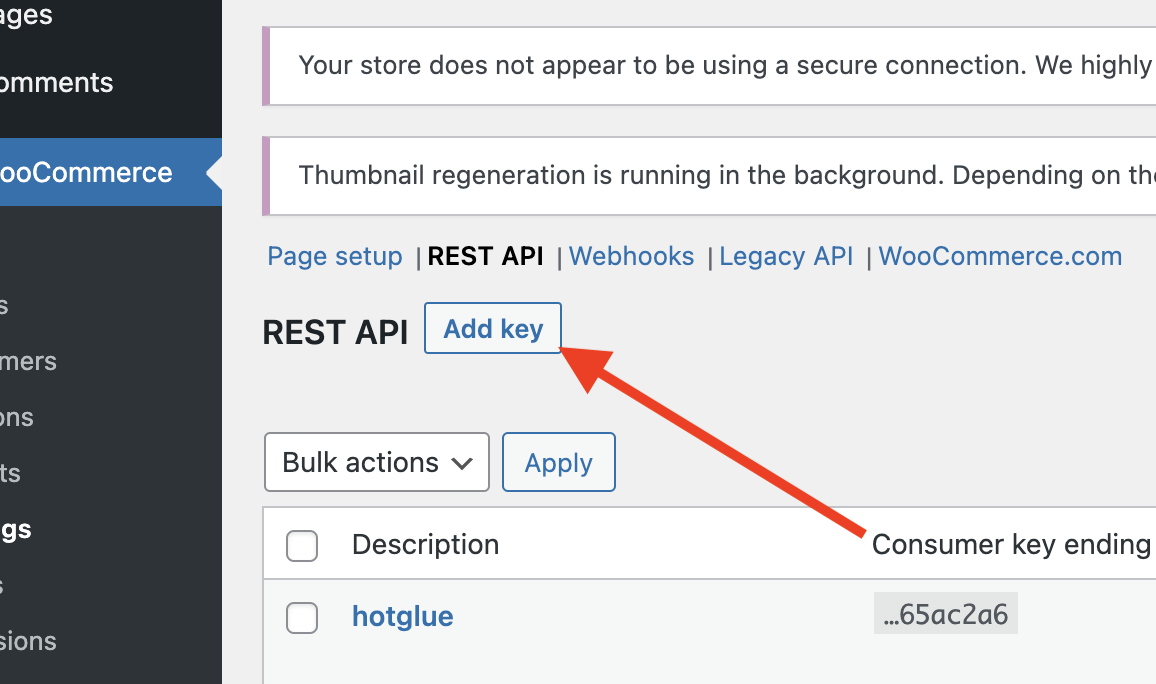 Create a new REST API key
Create your new consumer key pair, by writing a description, owner user, and permission level. For the WooCommerce source, you only need to provide Read level permissions.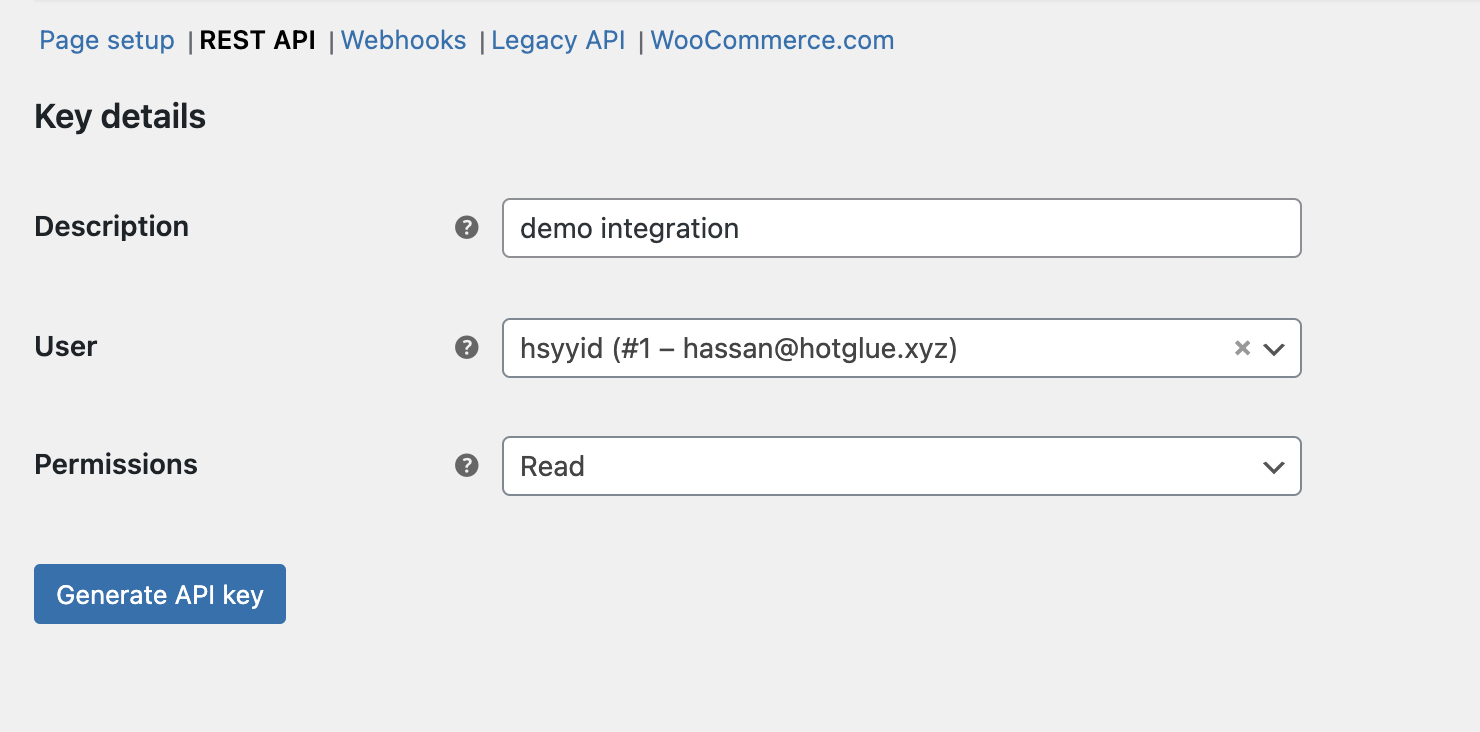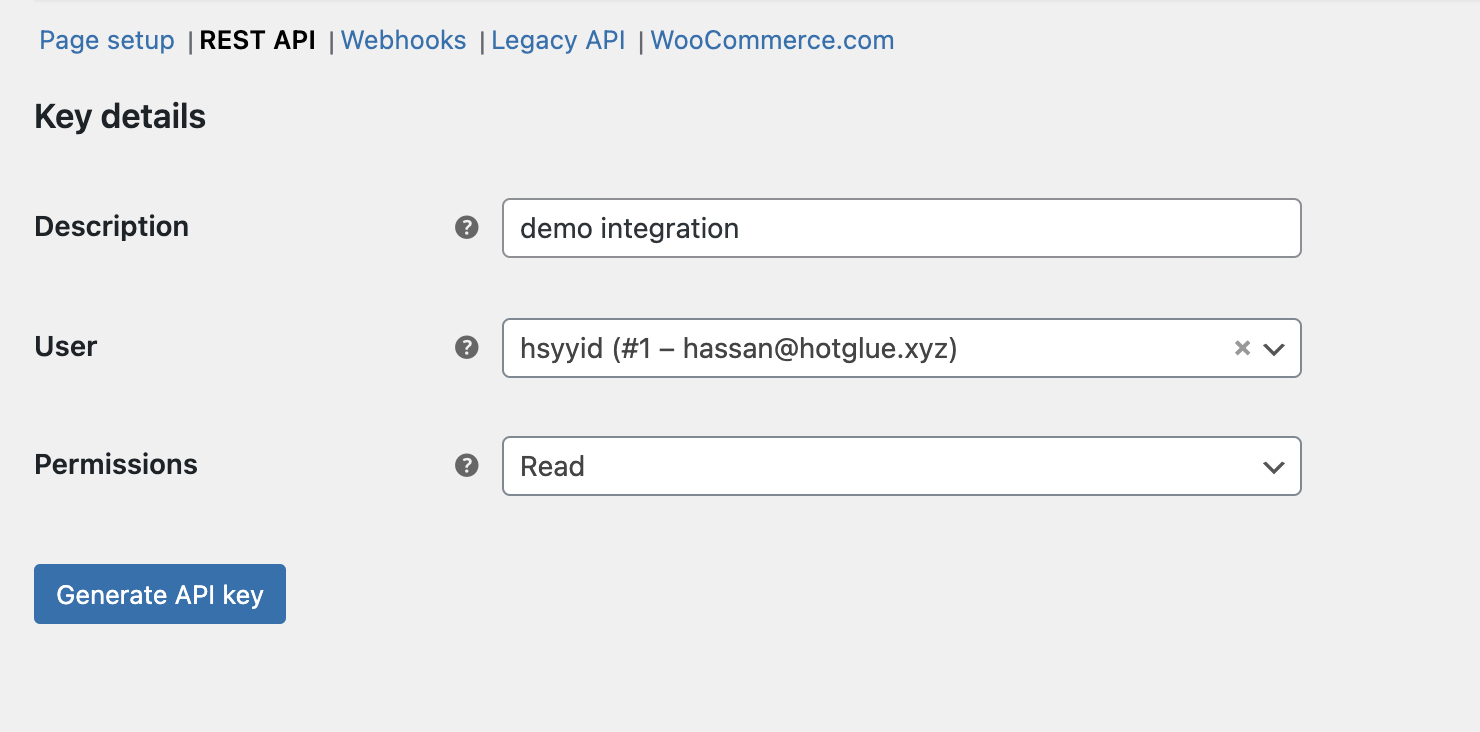 Configure REST API consumer key pair
Now you will have the consumer key pair you need!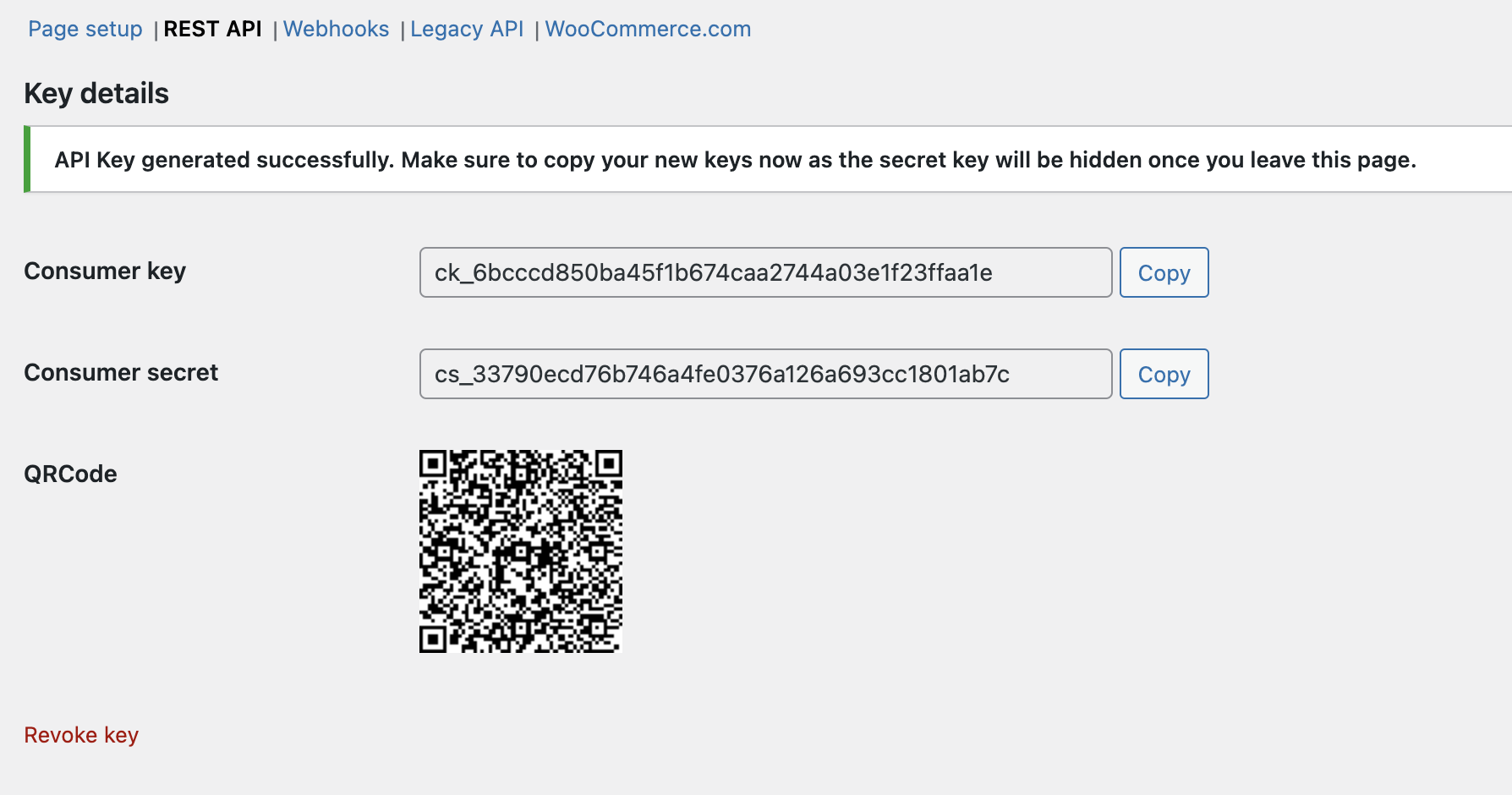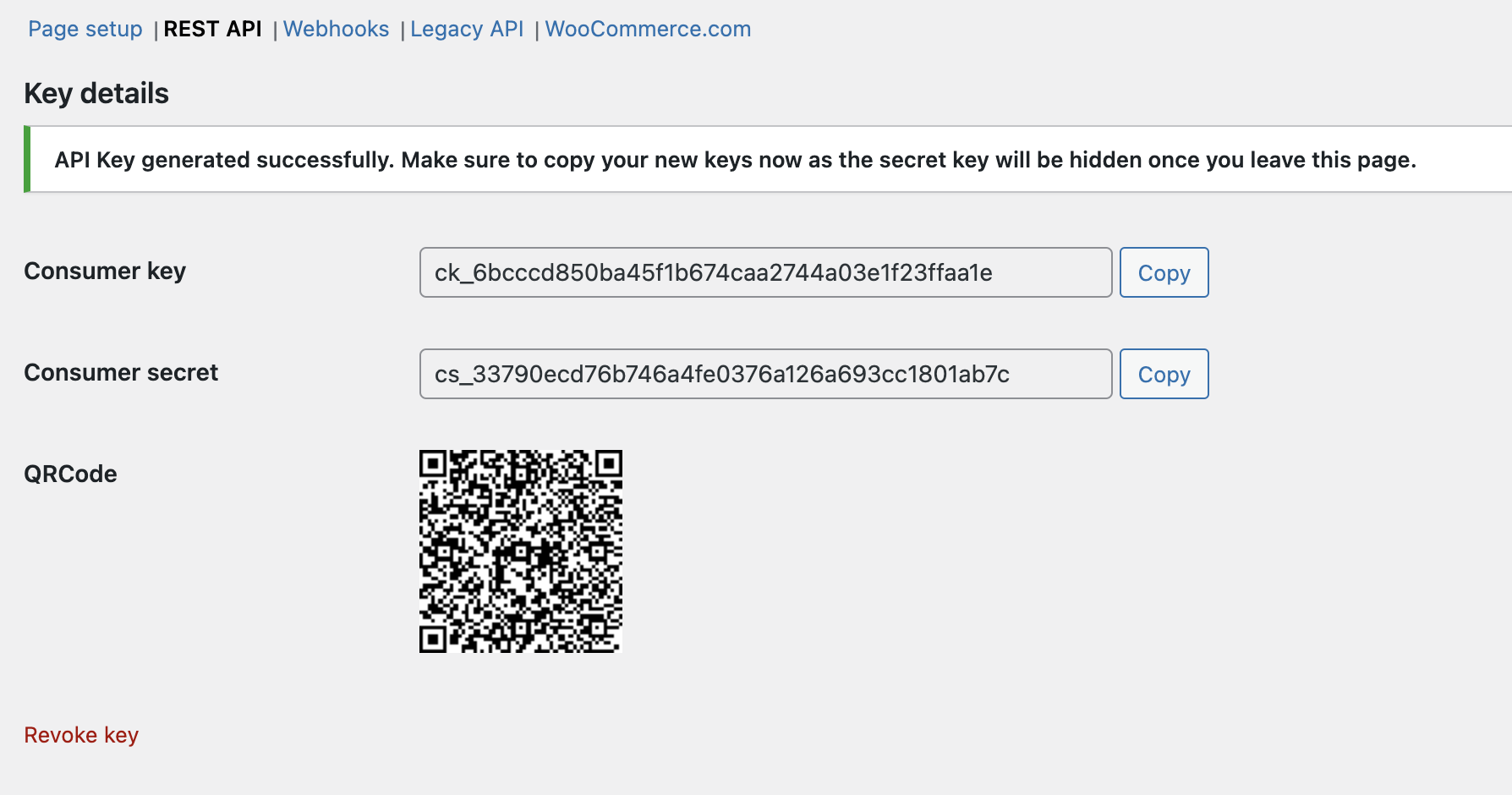 Scroll down to the page and you will find API Secret.
Now you can insert API Secret into your hotglue WooCommerce source settings:
That's it!
Supported Data
The WooCommerce currently supports the following objects:
| Name | Description |
| --- | --- |
| coupons | Coupons store records of discounts and rewards to your customers. |
| customers | Customer WooCommerce observes how customers browse your WooCommerce store, keeping a full purchase history log and calculating the total customer lifetime value. |
| orders | Orders are created when a customer completes the checkout process, and they are visible to users with Admin and Shop Manager roles only. Each order is given a unique Order ID. |
| product_variance | You can set offer on a product, with control over prices, stock, image and more for each variation. |
| products | |
| subscriptions | WooCommerce Subscriptions is a premium WooCommerce extension that allows you to sell products and services with recurring payments. |
| store_settings | very new WooCommerce installation starts with a setup wizard that walks you through all the basics of setting up your store |
Don't see something you're looking for? Let us know
You can always edit the data you're pulling from the WooCommerce connector in the field map settings:
---