Shopify
Get started with the Shopify target!
Connector Details
Connector Versions
| Name | Version | Stage | Description |
| --- | --- | --- | --- |
| Shopify | v1 | GA | Supports production Shopify online accounts |
| Shopify | v2 | GA | Supports production Shopify online accounts |
Obtain your credentials
There are two ways to use Shopify: either via a Shopify Public App (OAuth) or using a Private App (API keys). We have guides for both of these options below:
Private App
These steps will be performed by each of your customers when they connect their Shopify account.
The first thing you need to do is log in to Shopify. If you're just testing you can create a free partner account.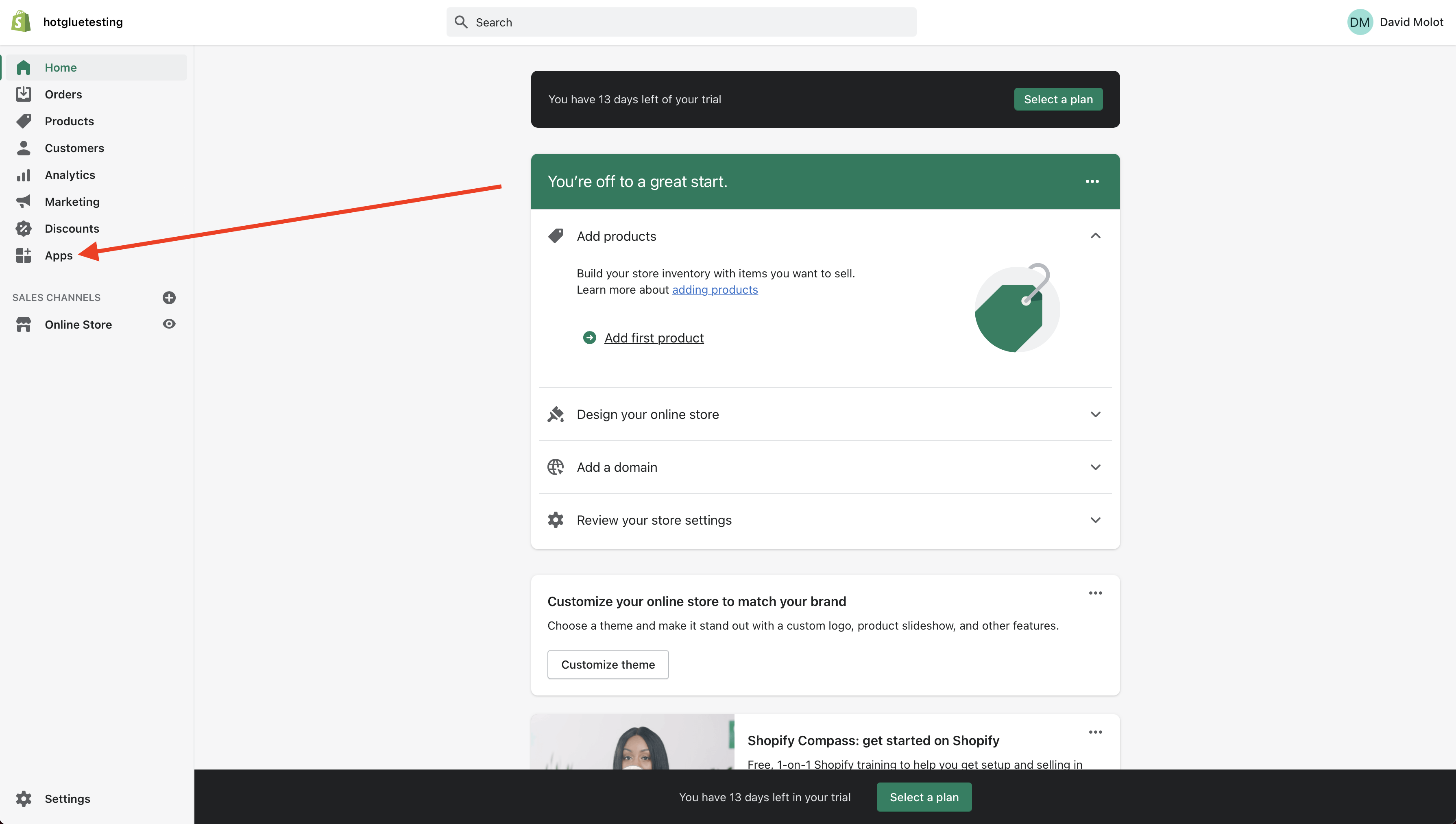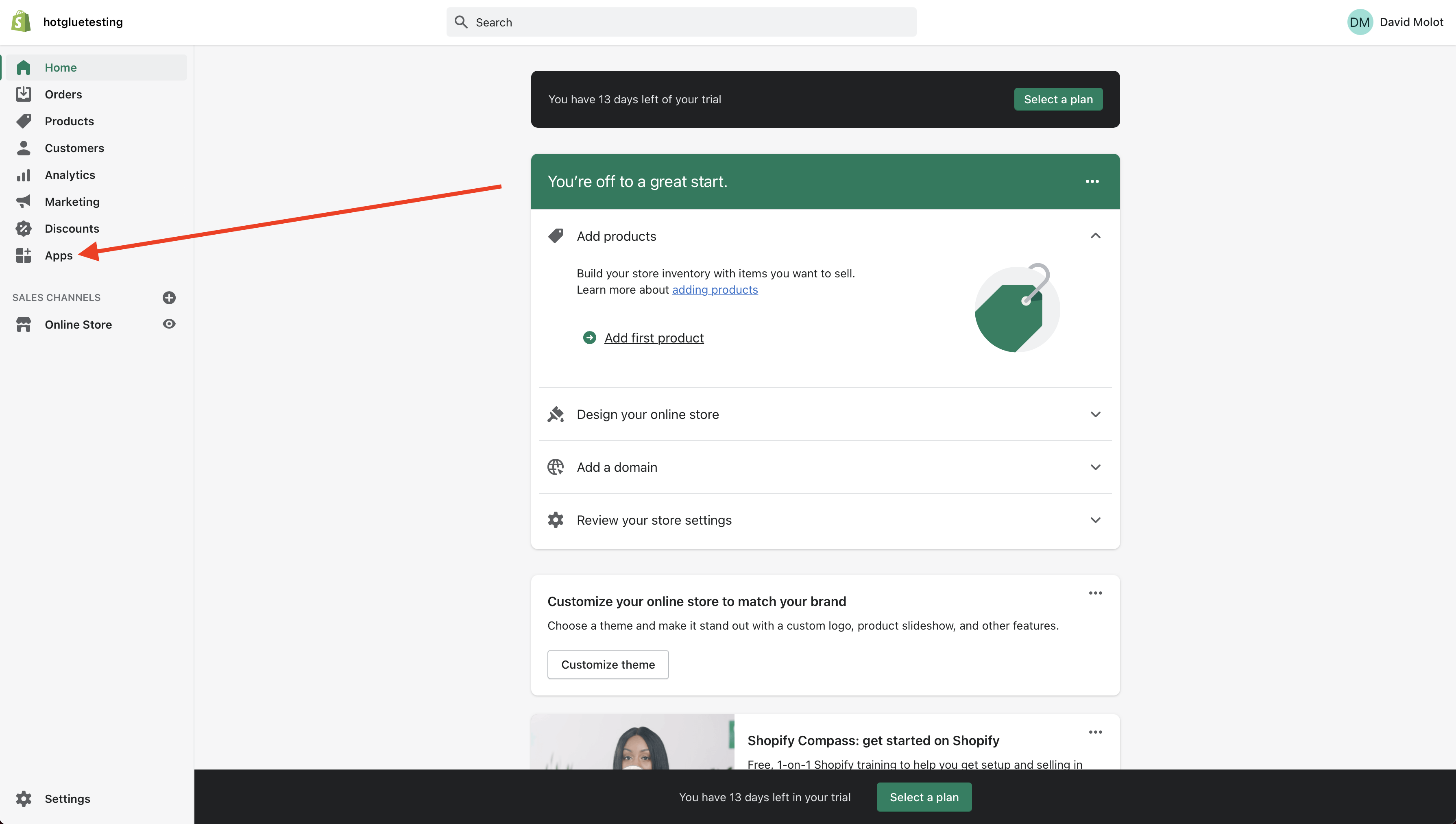 Once logged in on the left side of the screen, you should select the Apps option in the navigation bar.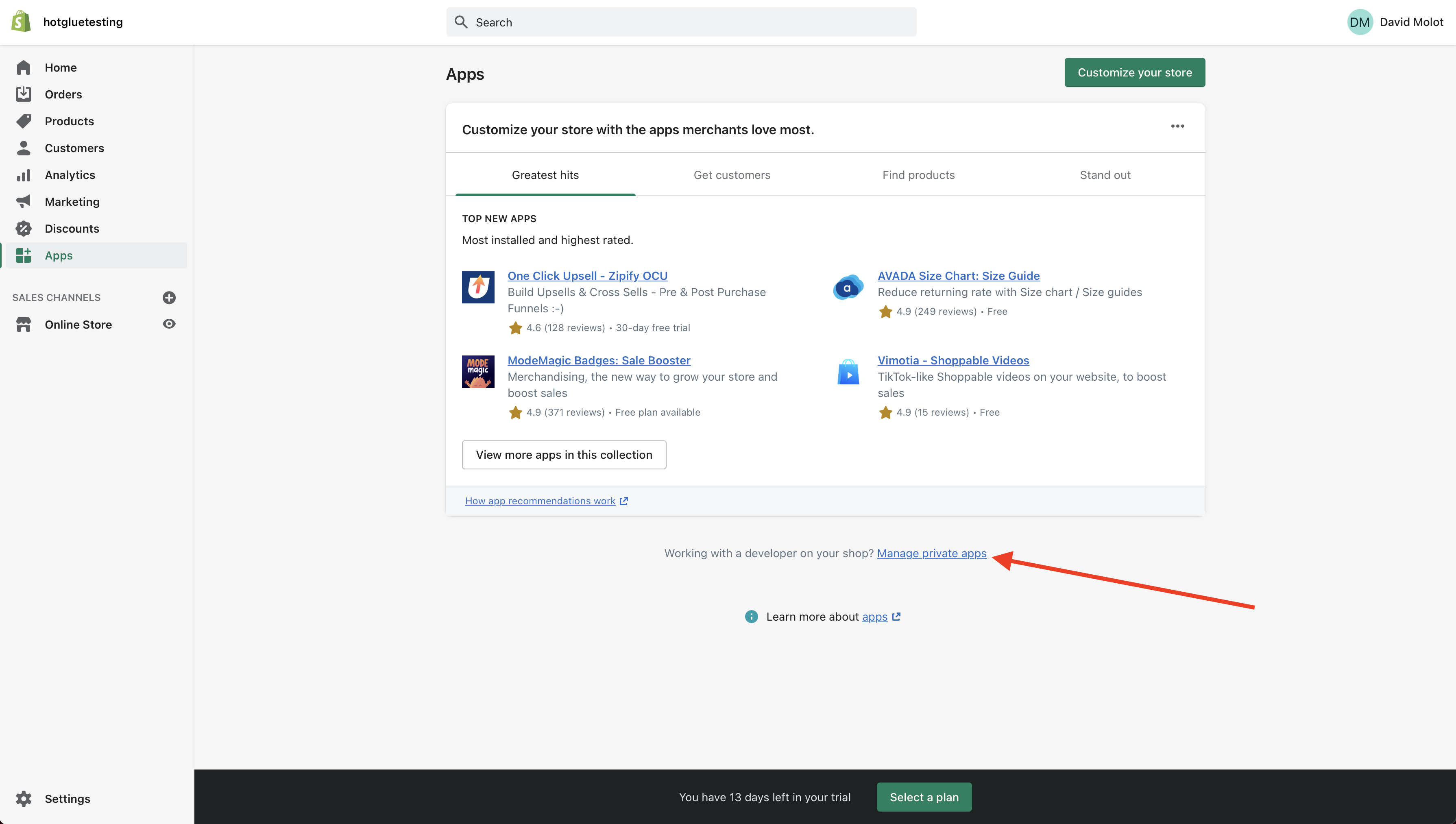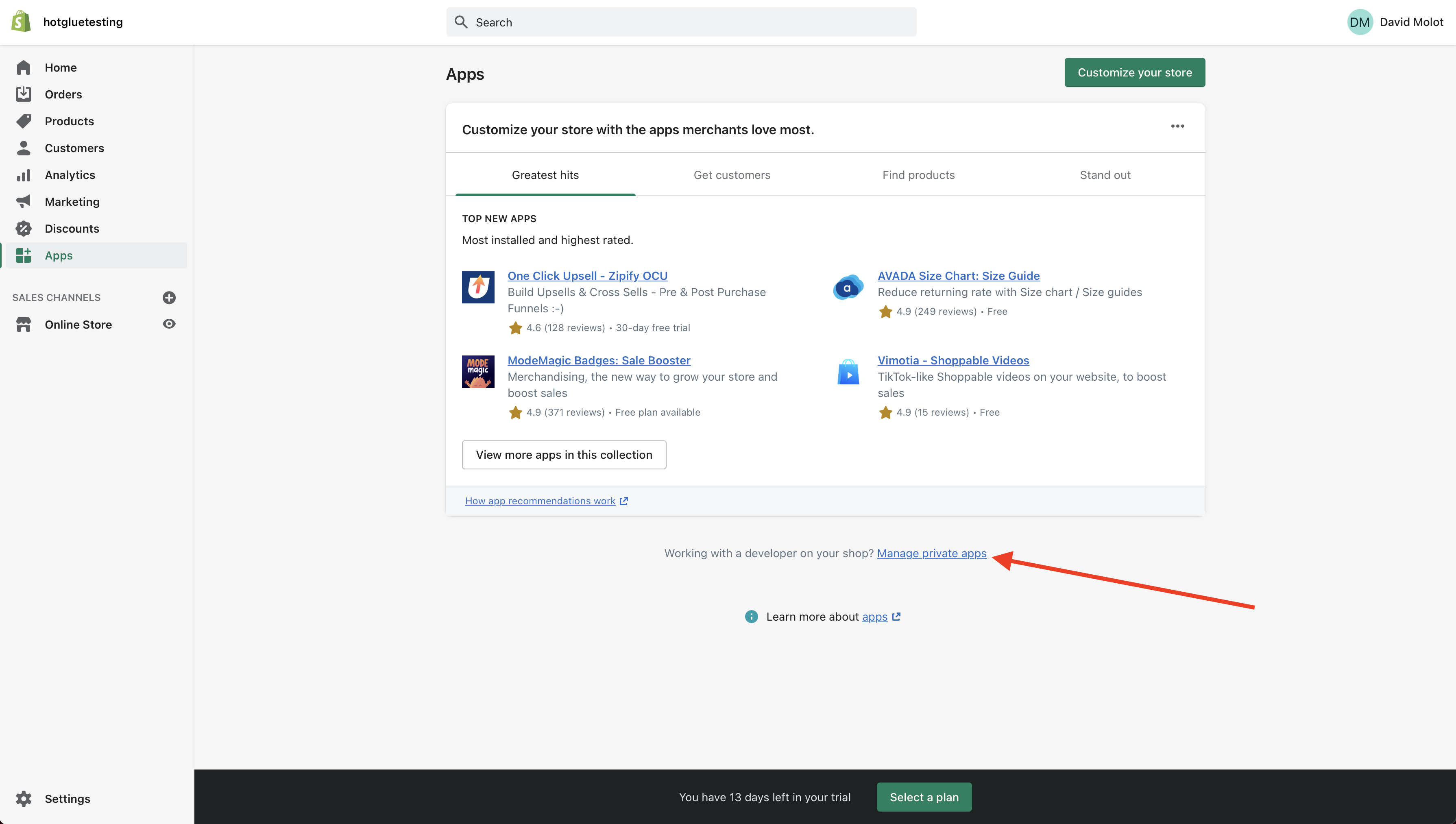 You should now be on the Apps page of your store. Near the bottom, you should click the link that says Manage private apps.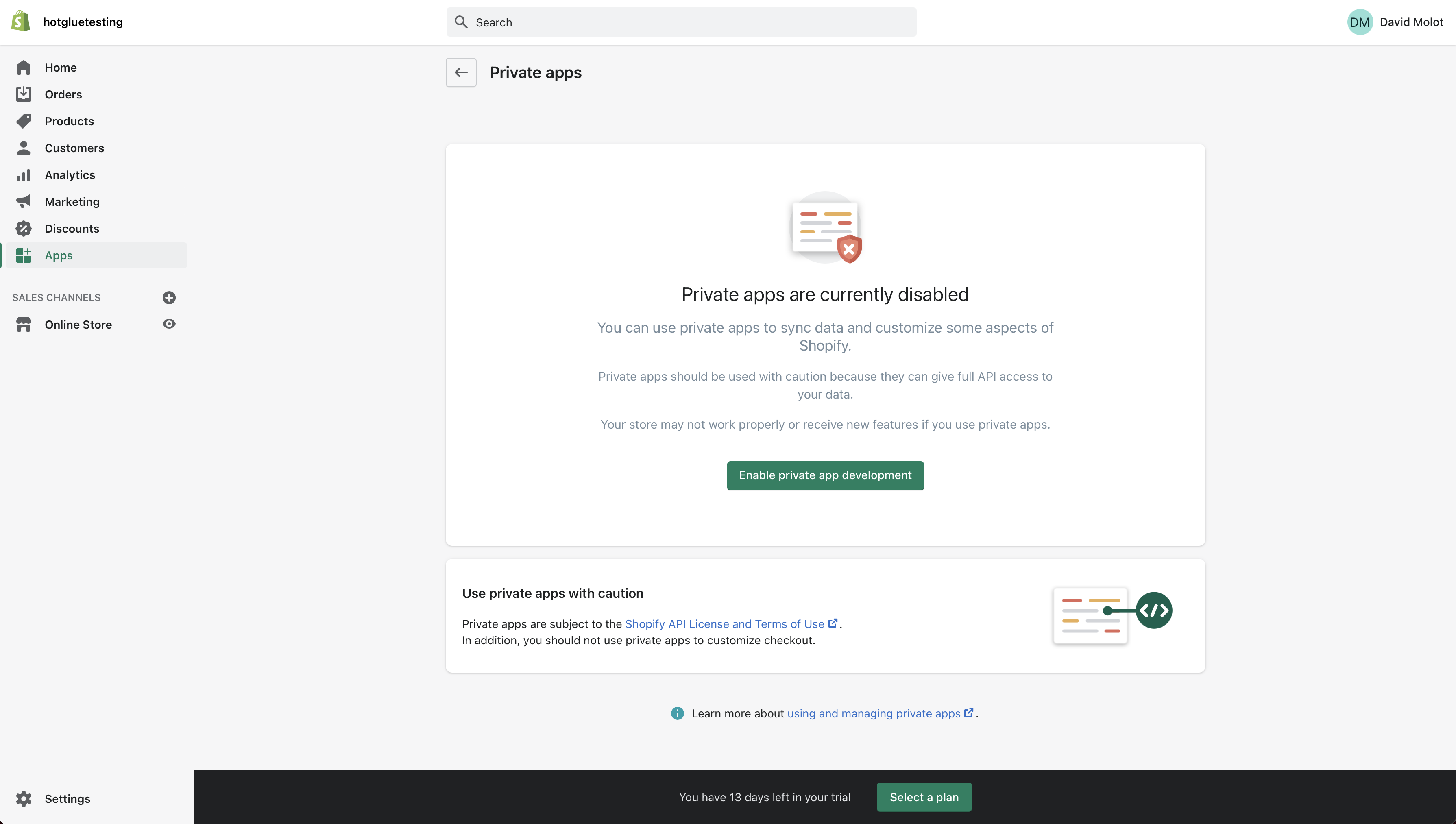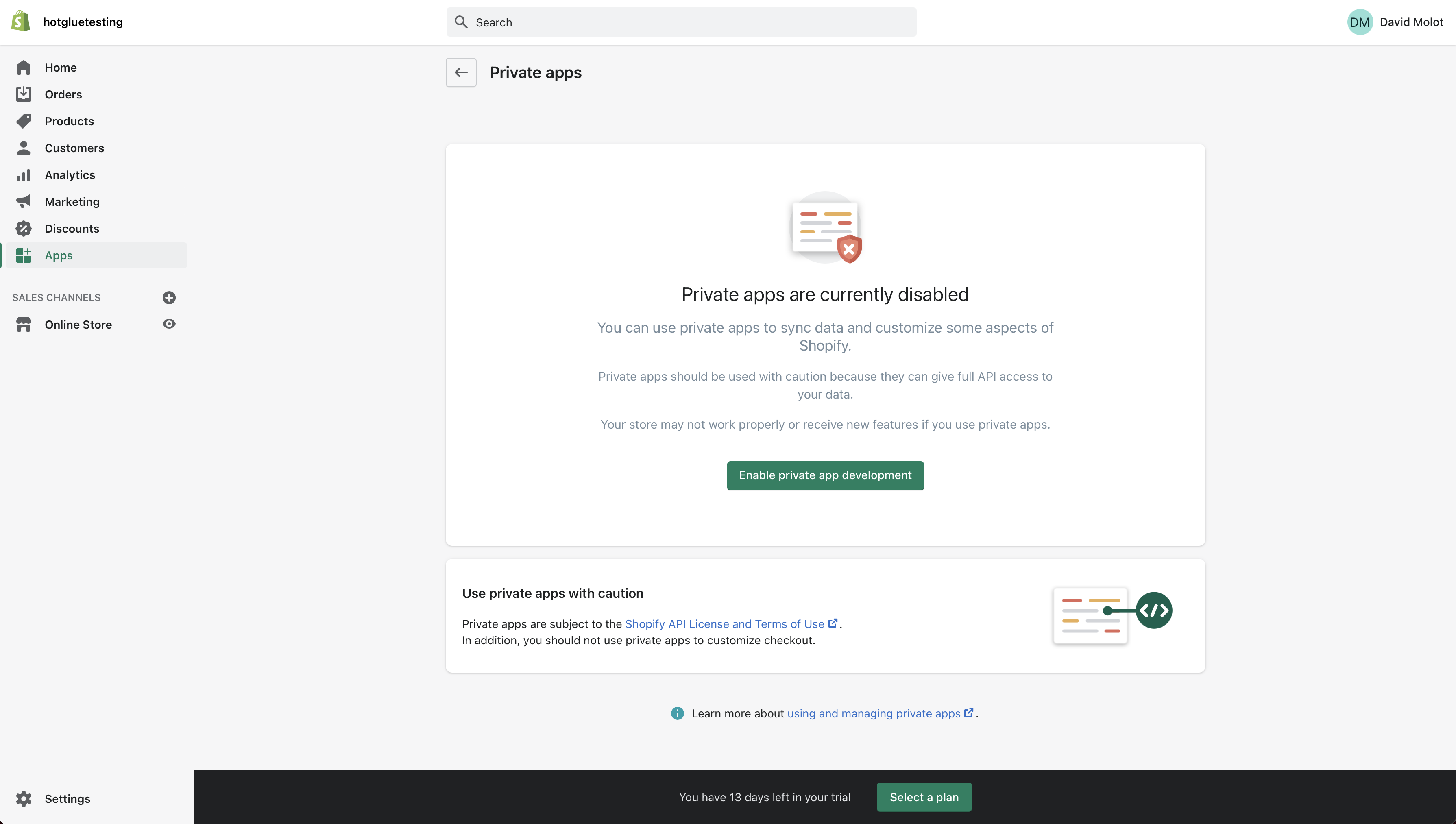 If you have not enabled private apps yet, your page will look like this. Click the Enable private app development button to get started.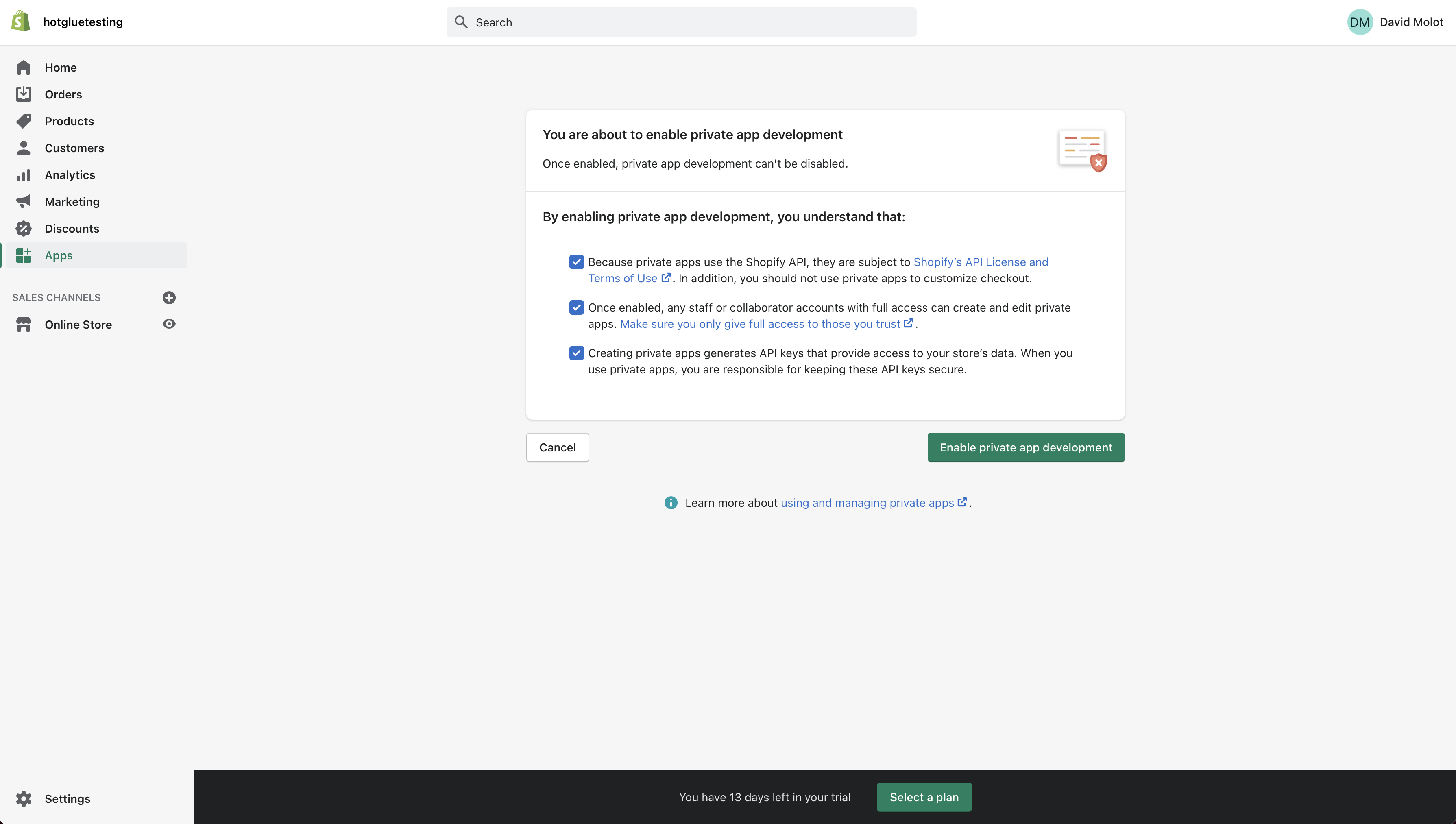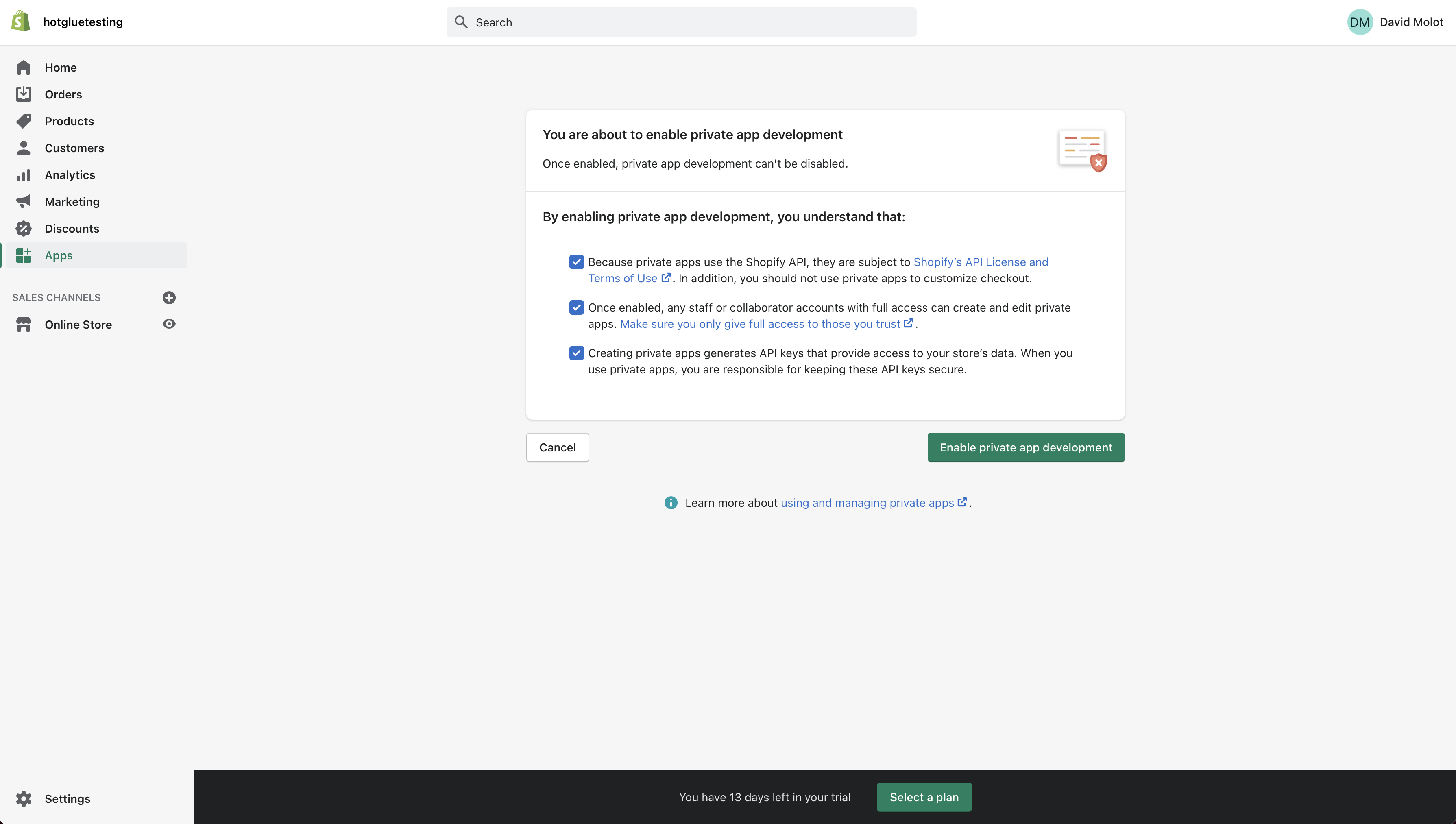 It will ask you a few things. You should check all these off and hit the Enable private app development button.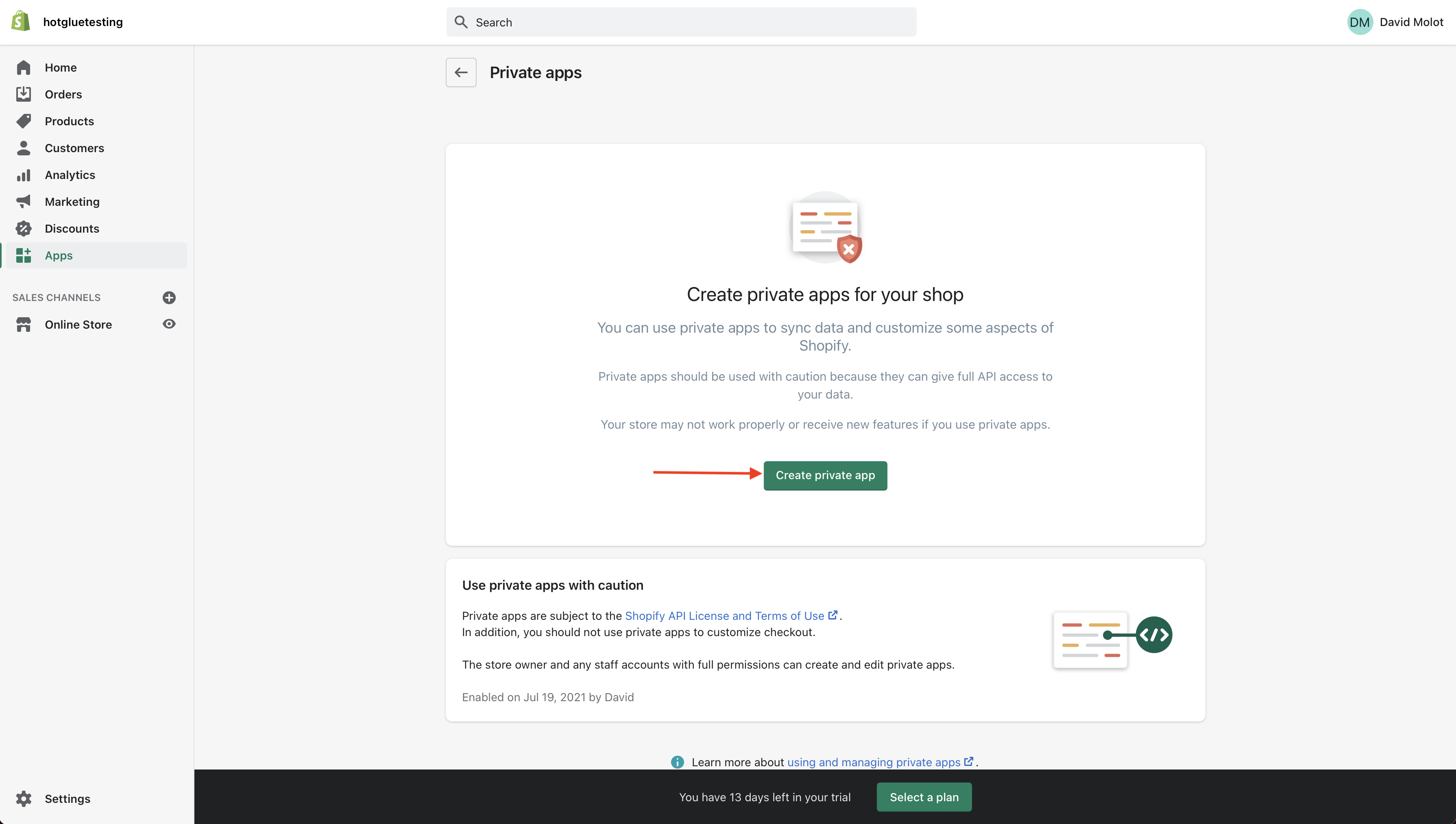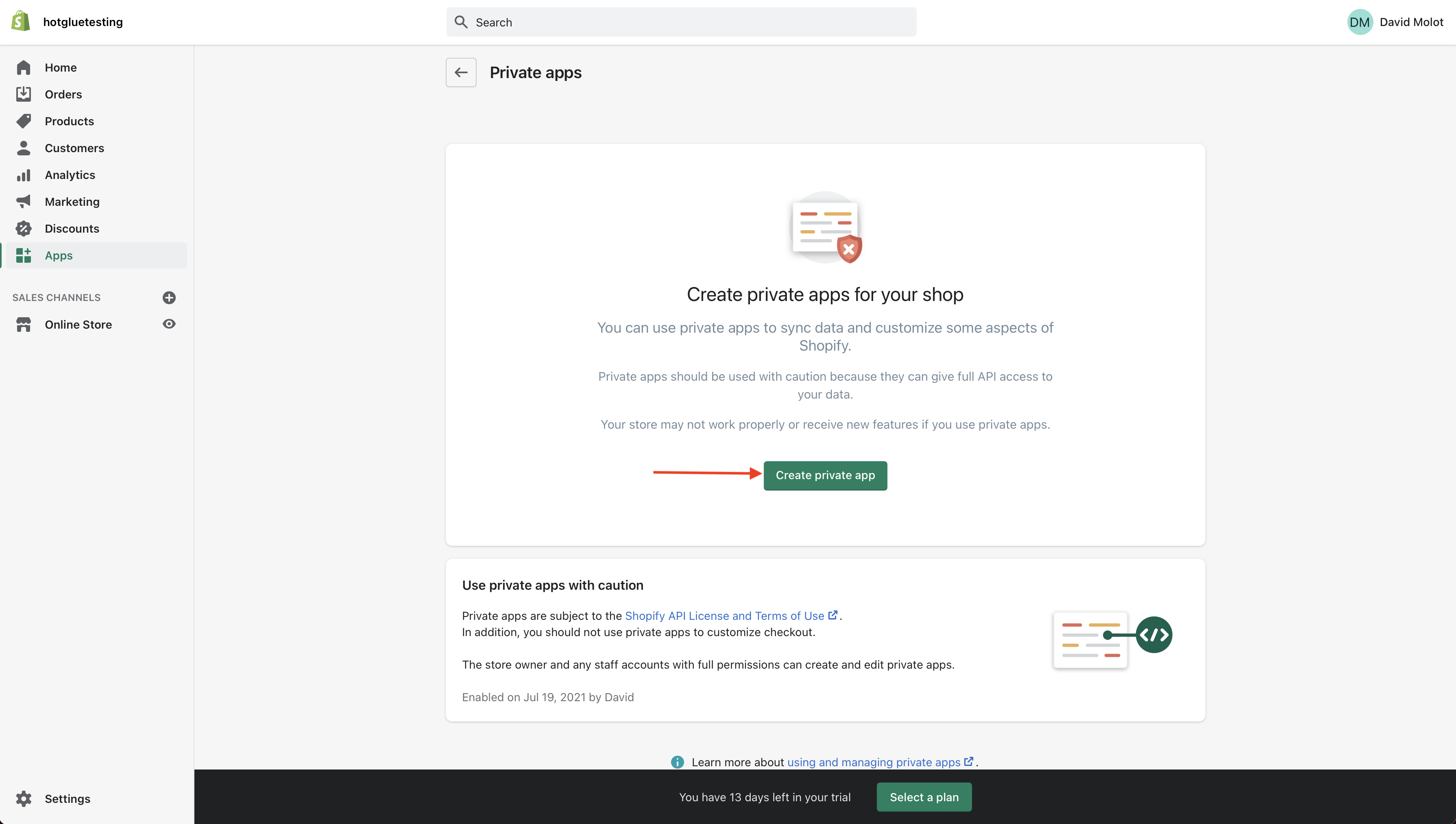 This will now take you back to the Apps page, but now will give you the option to create a private app. You should select the Create Private App button.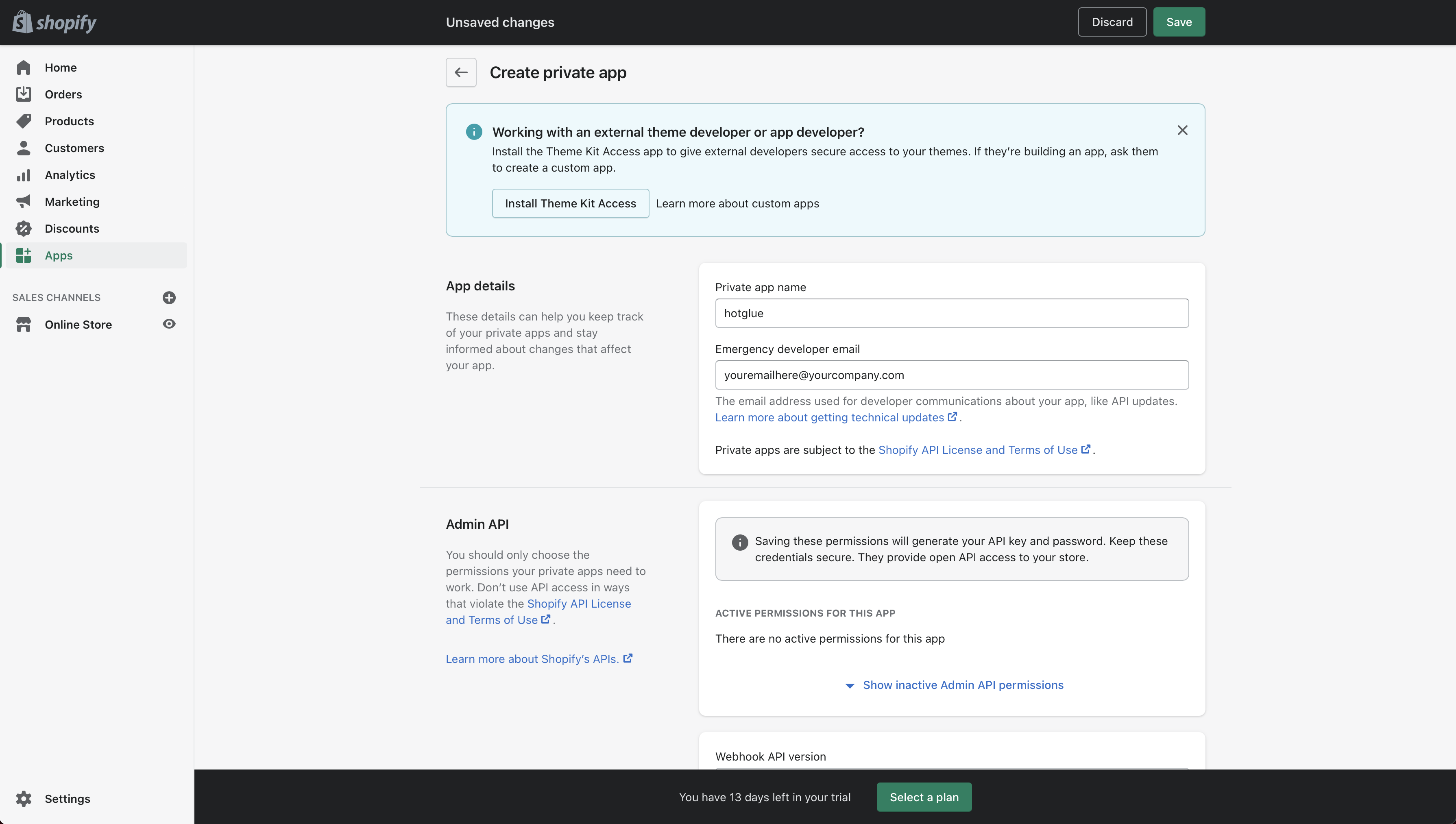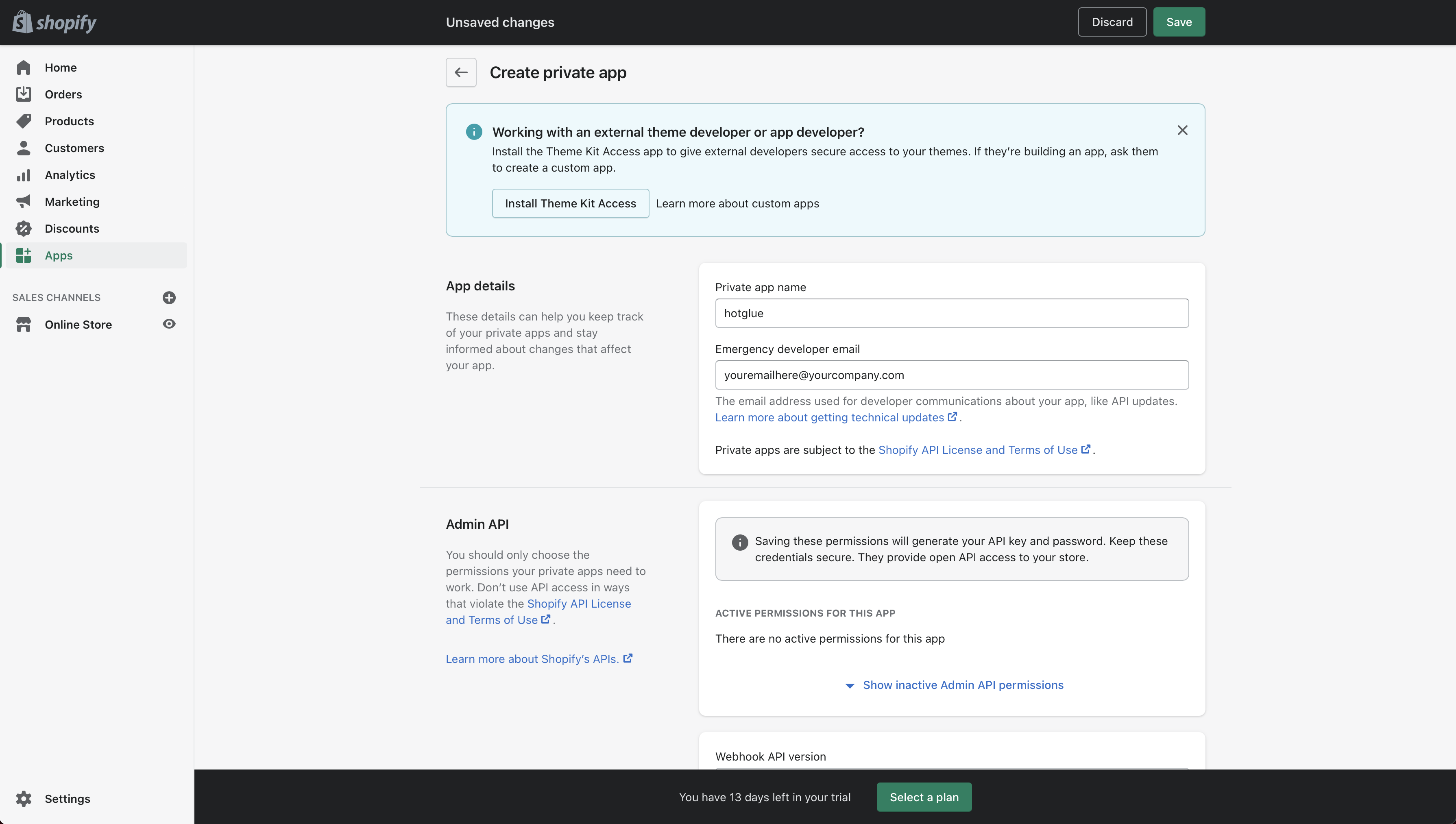 Next, you need to fill in the private app name and your email.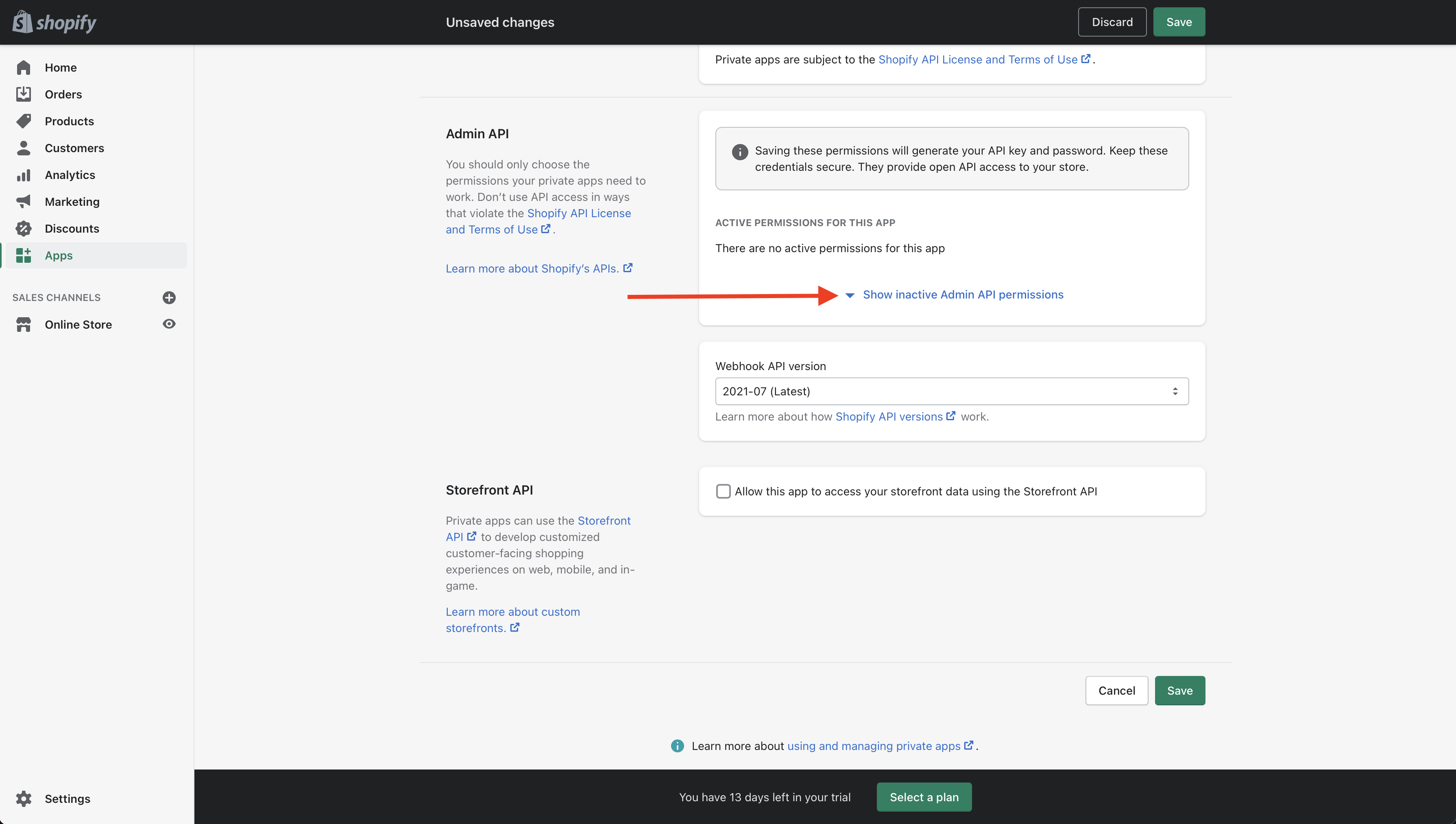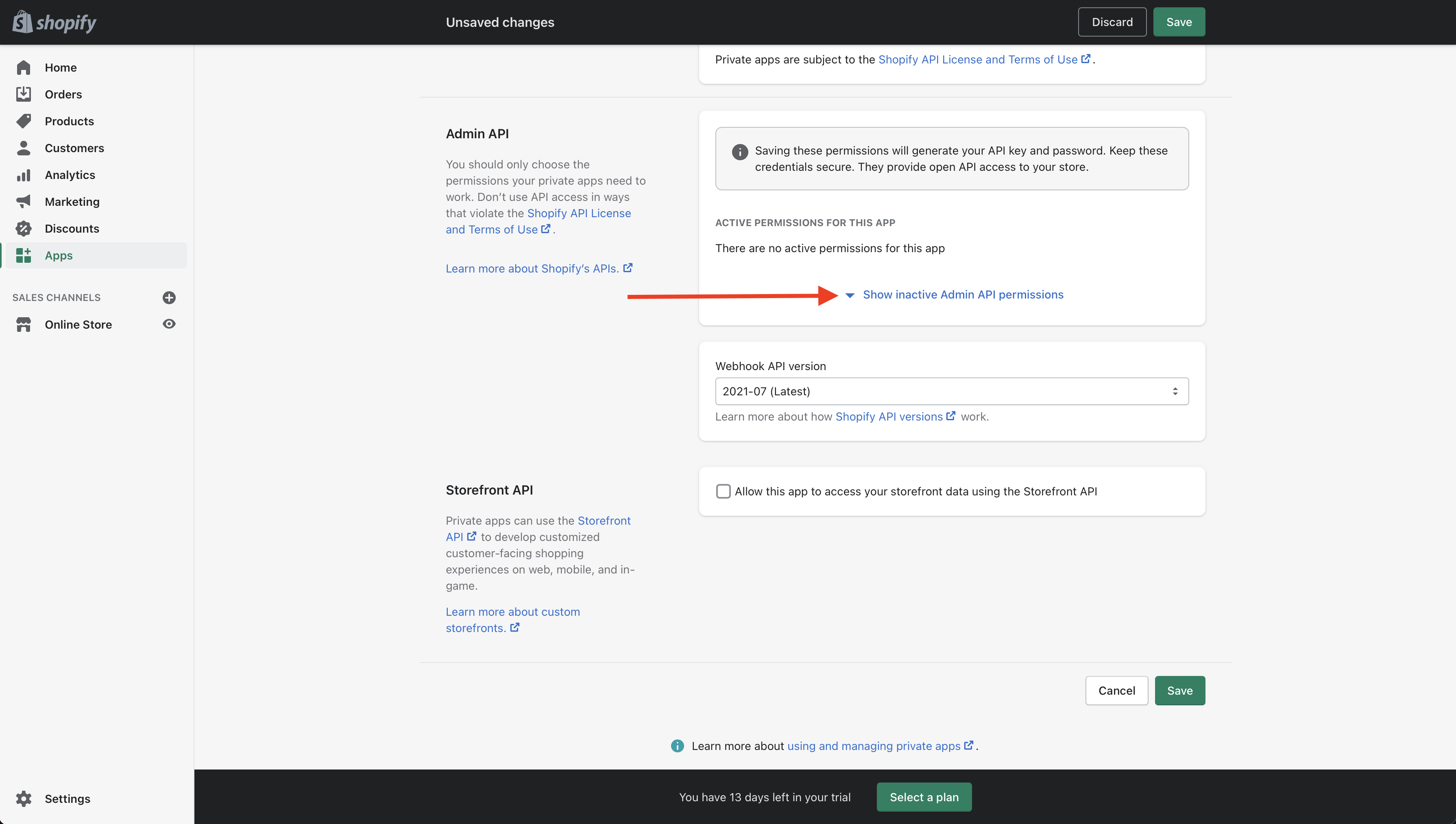 Now you want to click the Show inactive Admin API permissions drop down in order to configure what data you would like to be able to pull from Shopify.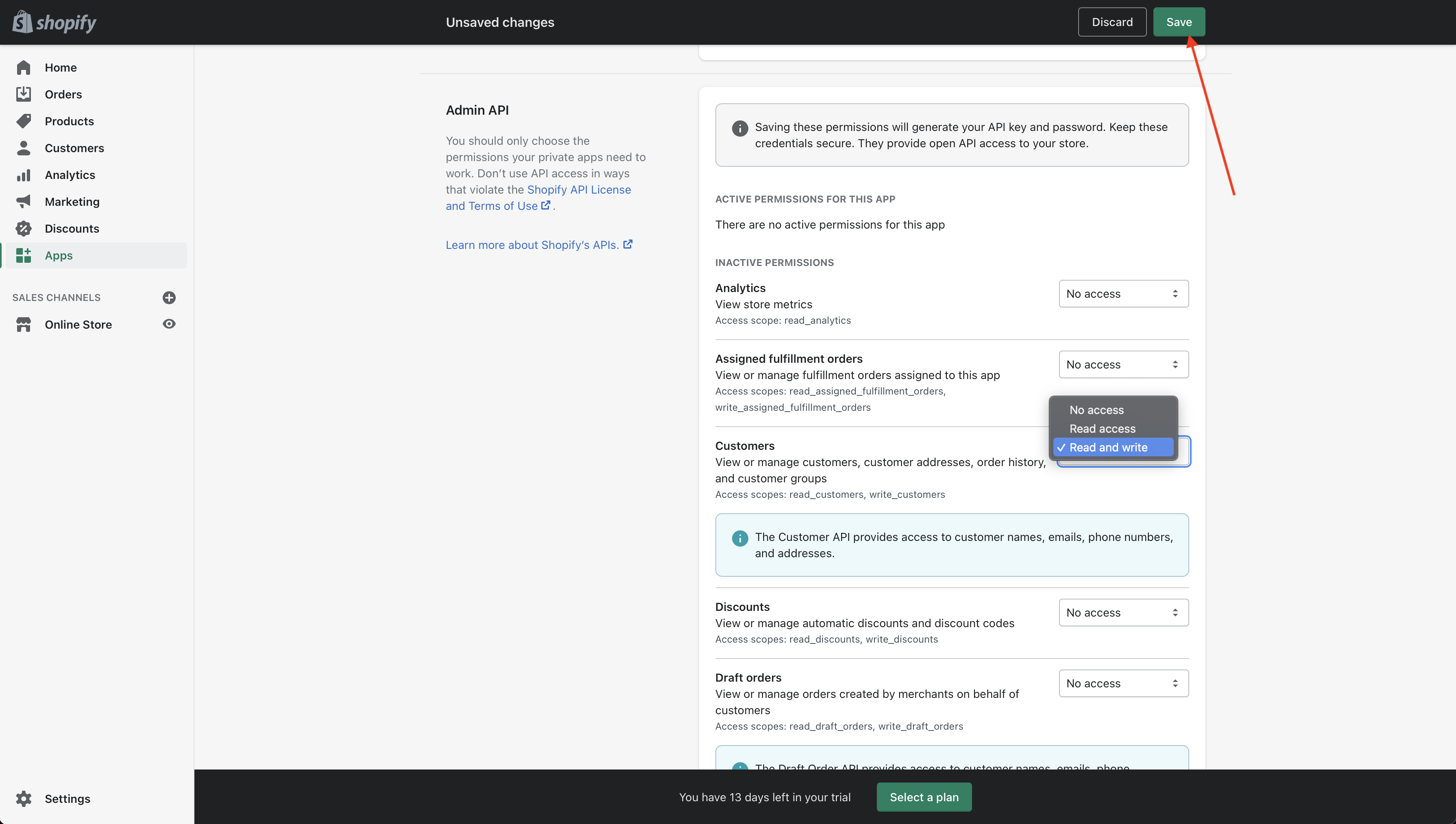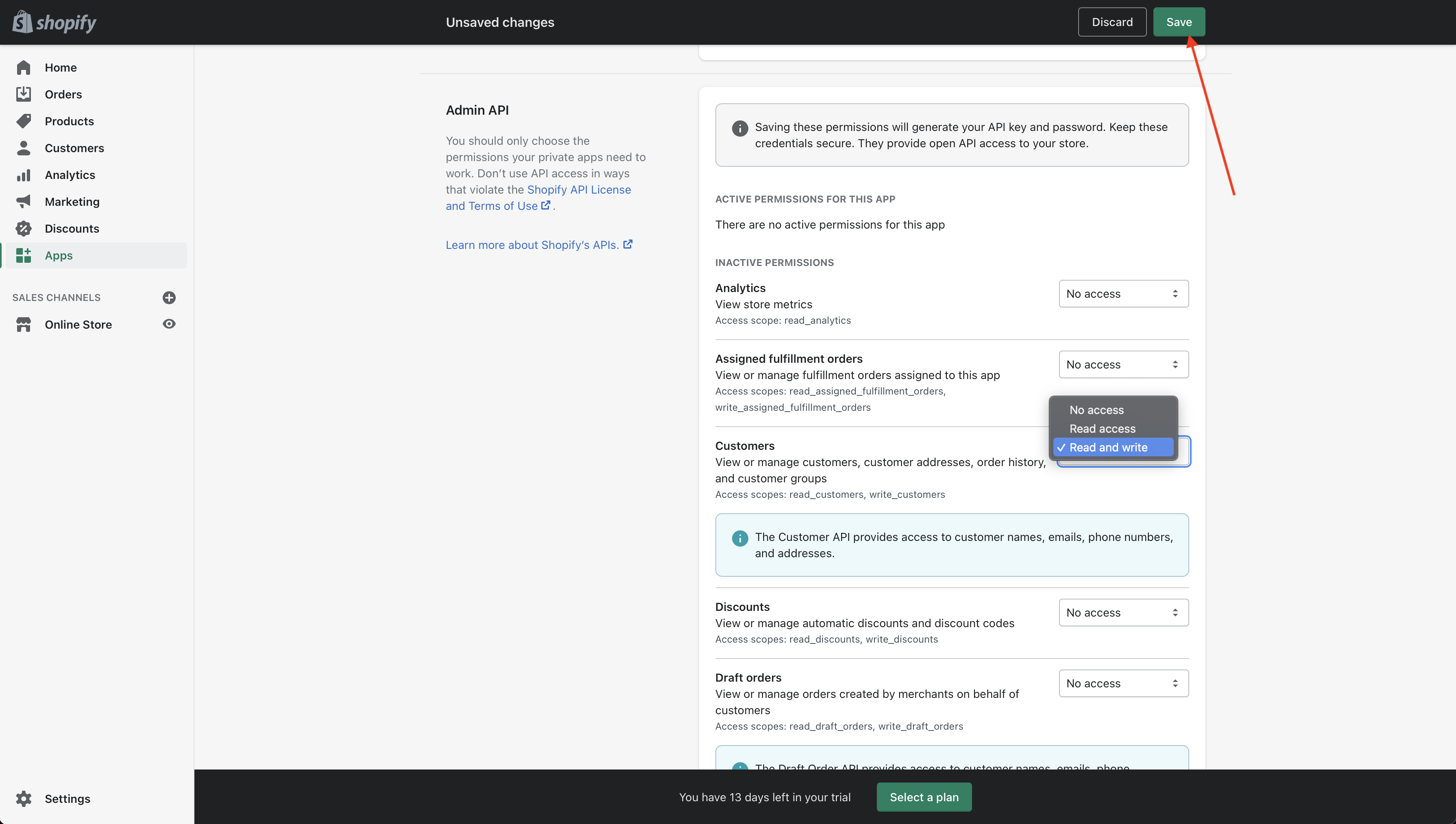 This will drop down a bunch of permissions that you can change. Configure the permissions as needed, and then click the Save button in the top right corner.
If you plan to use both the Shopify source and target make sure to enable Read and write access. Otherwise, Read access is sufficient.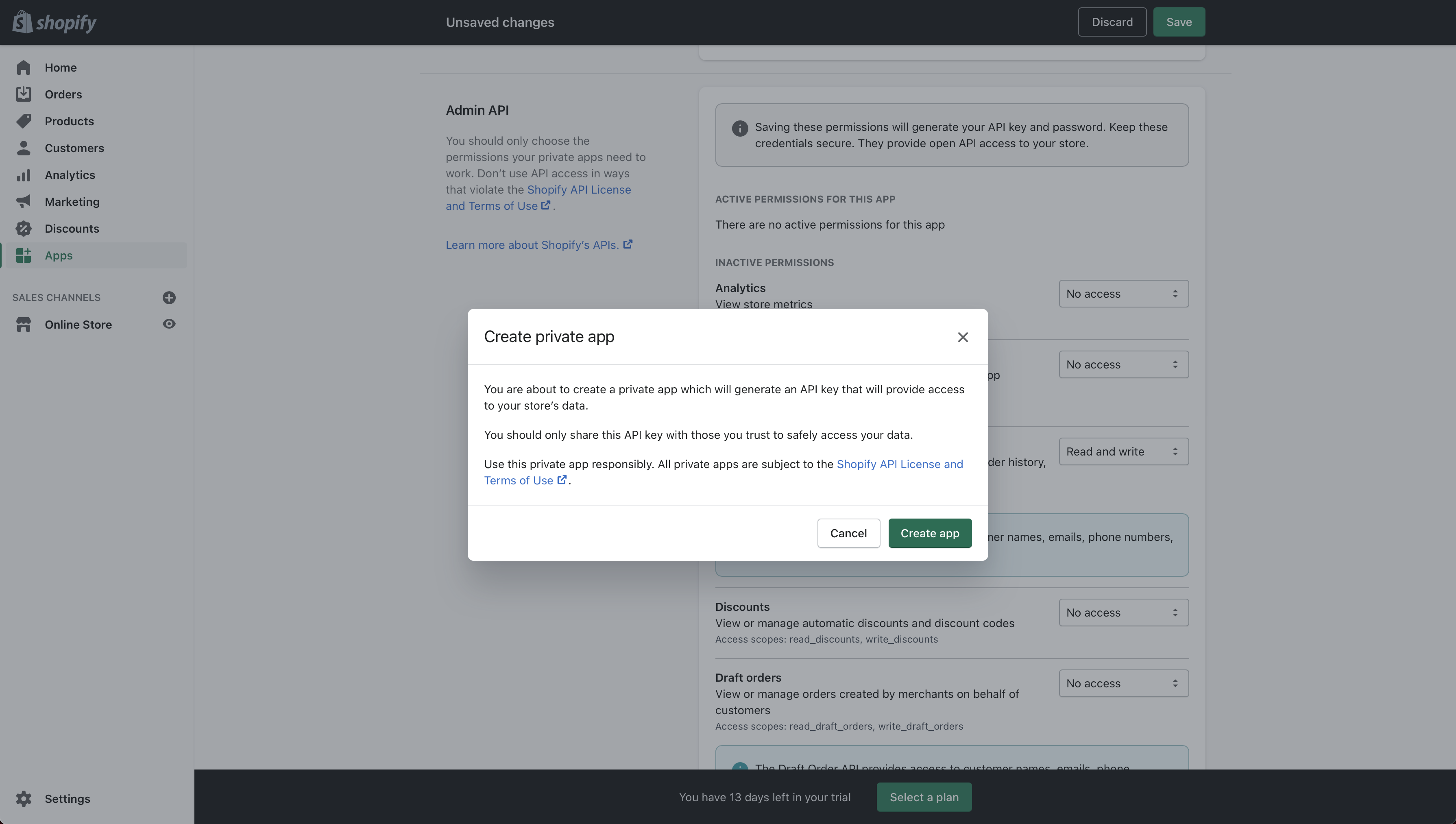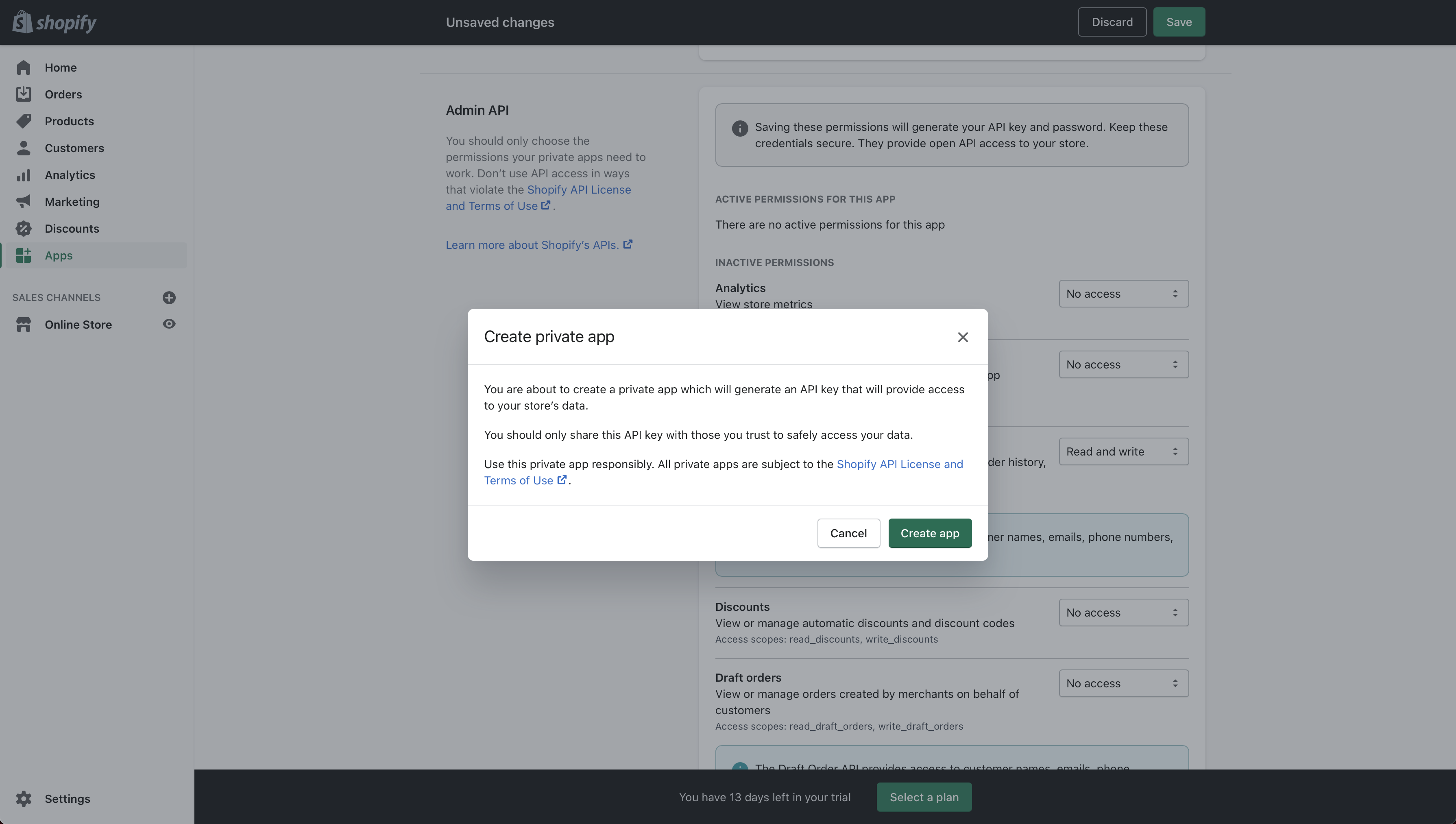 Once you have clicked Save, this popup will appear. Click the Create app button.
From here you can get the API Password field which is required for the Shopify source to work properly.
If you plan to use triggers with the Shopify source, make sure to keep your API key as well.
Now you can insert the API Password into your hotglue Shopify target settings along with the name of your Shop:
That's it!
Supported Data
Below is a list of the Shopify entities currently supported by the hotglue target:​
Don't see an entity you're looking for? Let us know
Data format
Each entity that can be synced to Shopify must be in the correct format before posting.
Products
When sending Products to the Shopify target, the file must be named products.json and contain an array of products, which have the following schema.
| Key | Type | Description |
| --- | --- | --- |
| title | string | Title of the product |
| body_html | string | HTML used in the body of product description |
| vendor | string | Vendor name |
| product_type | string | Product category |
| images | array[object] | Array of images to use for product |
| variants | array[object] | Array of variant definitions |
| inventory_quantity | integer | Available quantity. Only available if inventory_management is set to shopify |
Below is a sample products.json
[
    {
        "title": "Burton Custom Freestyle 153",
        "body_html": "<strong>Good snowboard!</strong>",
        "vendor": "Burton",
        "product_type": "Snowboard",
        "images": [
            {
                "src": "https://static2.jonessnowboards.com/1258-large_default/mountain-twin.jpg"
            }
        ],
        "variants": [
            {
                "title": "First",
                "option1": "First",
                "inventory_management": "shopify",
                "price": "10.00",
                "inventory_quantity": 50,
                "sku": "123"
            },
            {
                "title": "Second",
                "option1": "Second",
                "inventory_management": "shopify",
                "inventory_quantity": 50,
                "price": "20.00",
                "sku": "123"
            }
        ]
    }
]

Sample Postman Collection
Updated about 2 months ago
---