WooCommerce
Get started with the WooCommerce target!
Connector Details
Connectors Version
| Name | Version | Stage | Description |
| --- | --- | --- | --- |
| WooCommerce | V1 | GA | Supports WooCommerce Accounts |
| WooCommerce | V2 | GA | Supports WooCommerce Accounts |
Get your API credentials
Inside your WordPress admin view, head to your WooCommerce Settings > Advanced > REST API


WooCommerce REST API settings
From here, select the Add key option to create a key for the integration.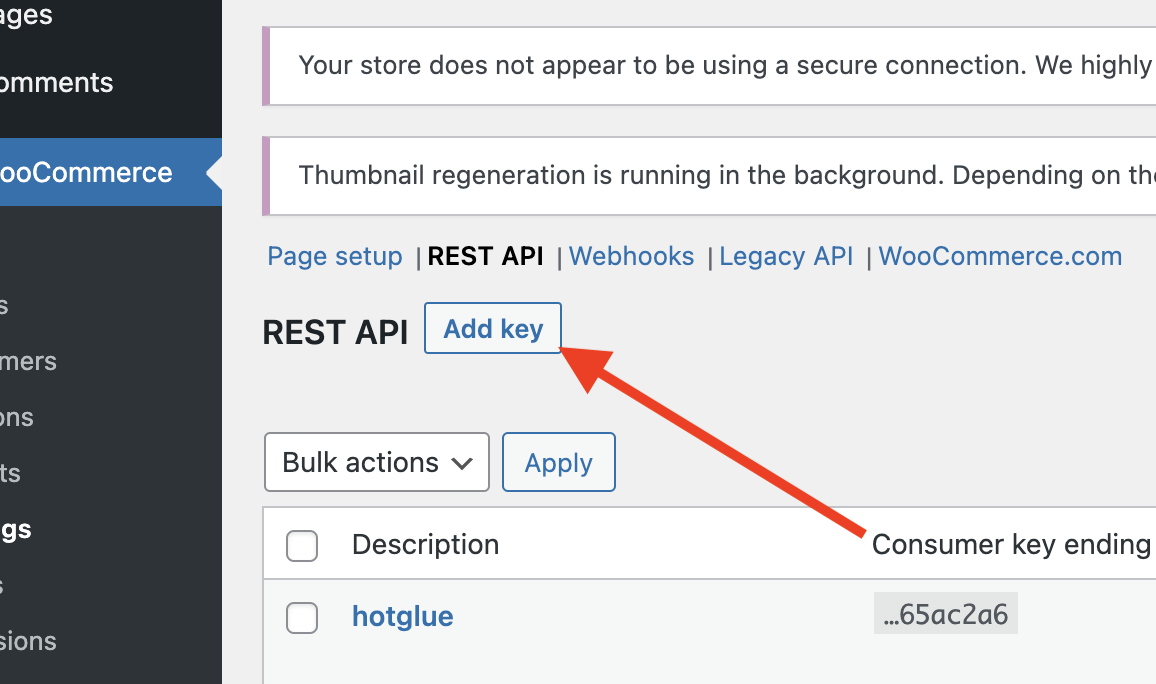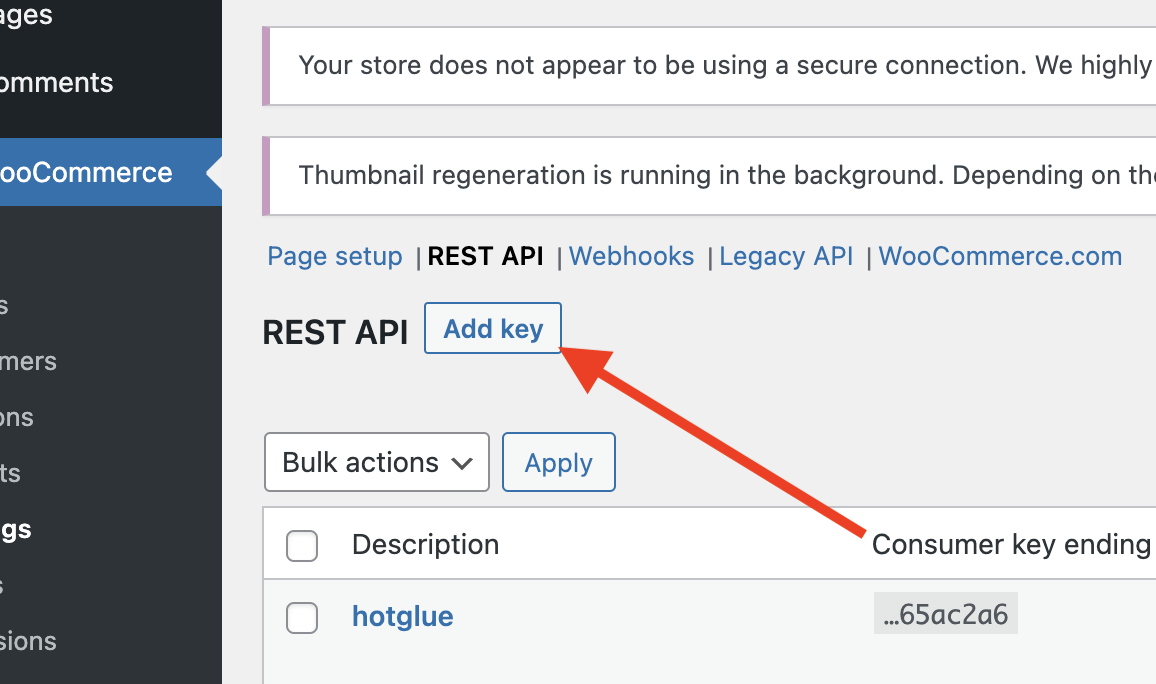 Create a new REST API key
Create your new consumer key pair, by writing a description, owner user, and permission level. For the WooCommerce source, you only need to provide Read level permissions.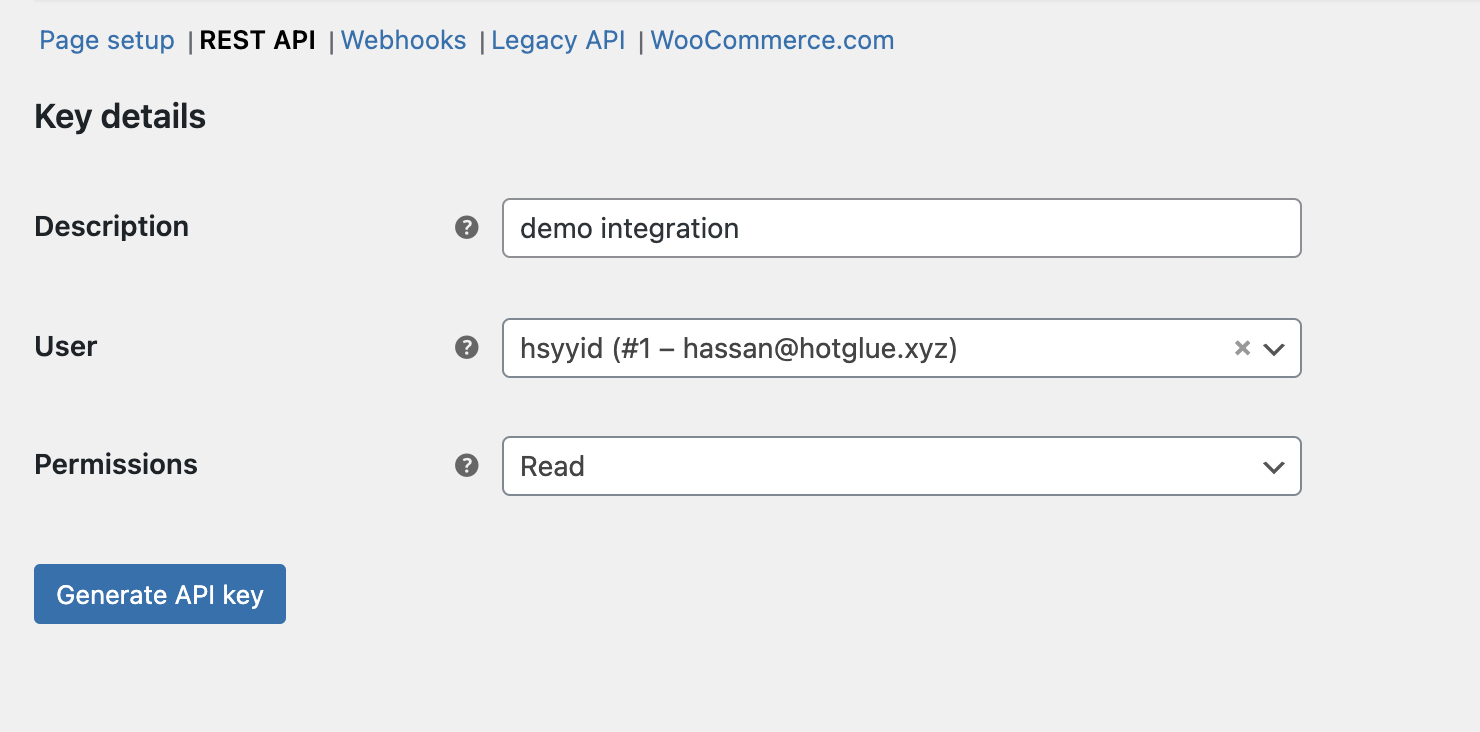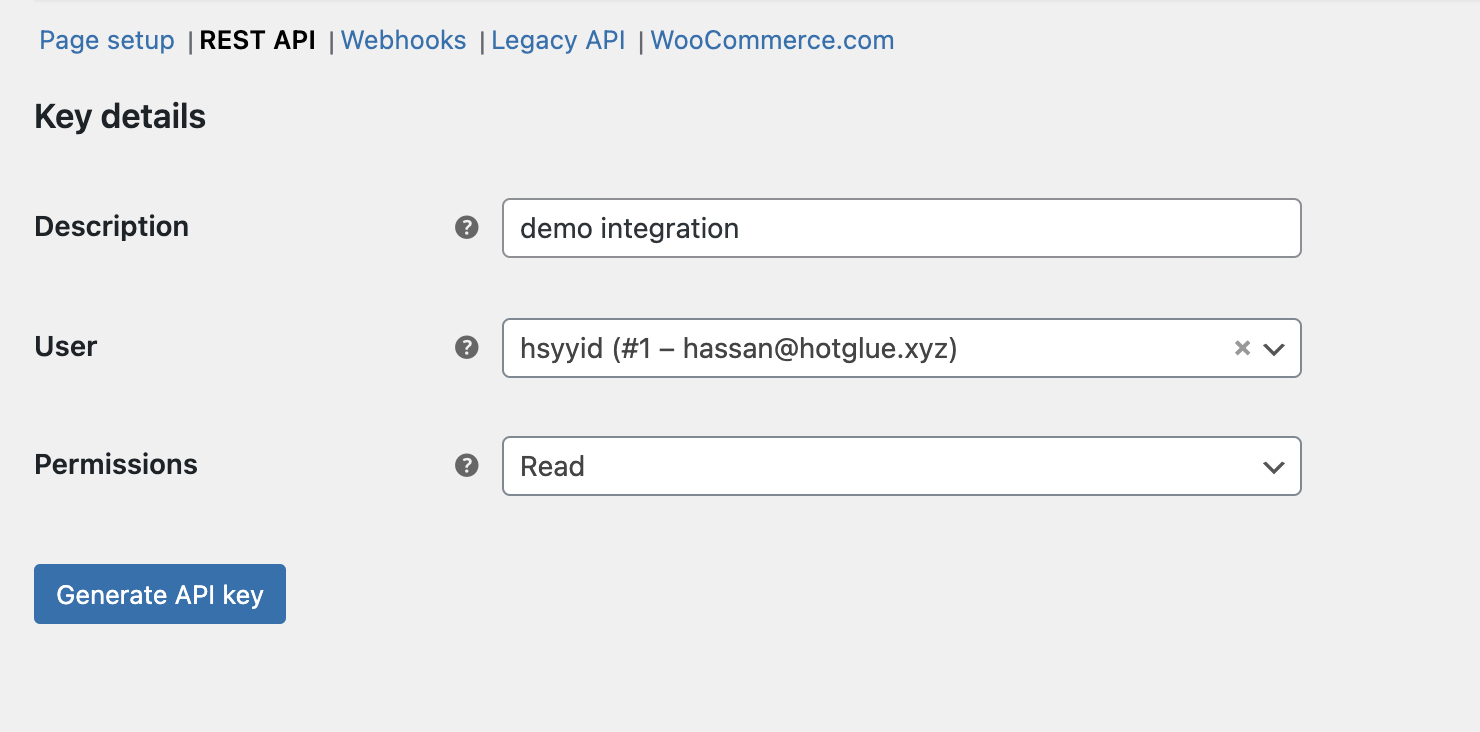 Configure REST API consumer key pair
Now you will have the consumer key pair you need!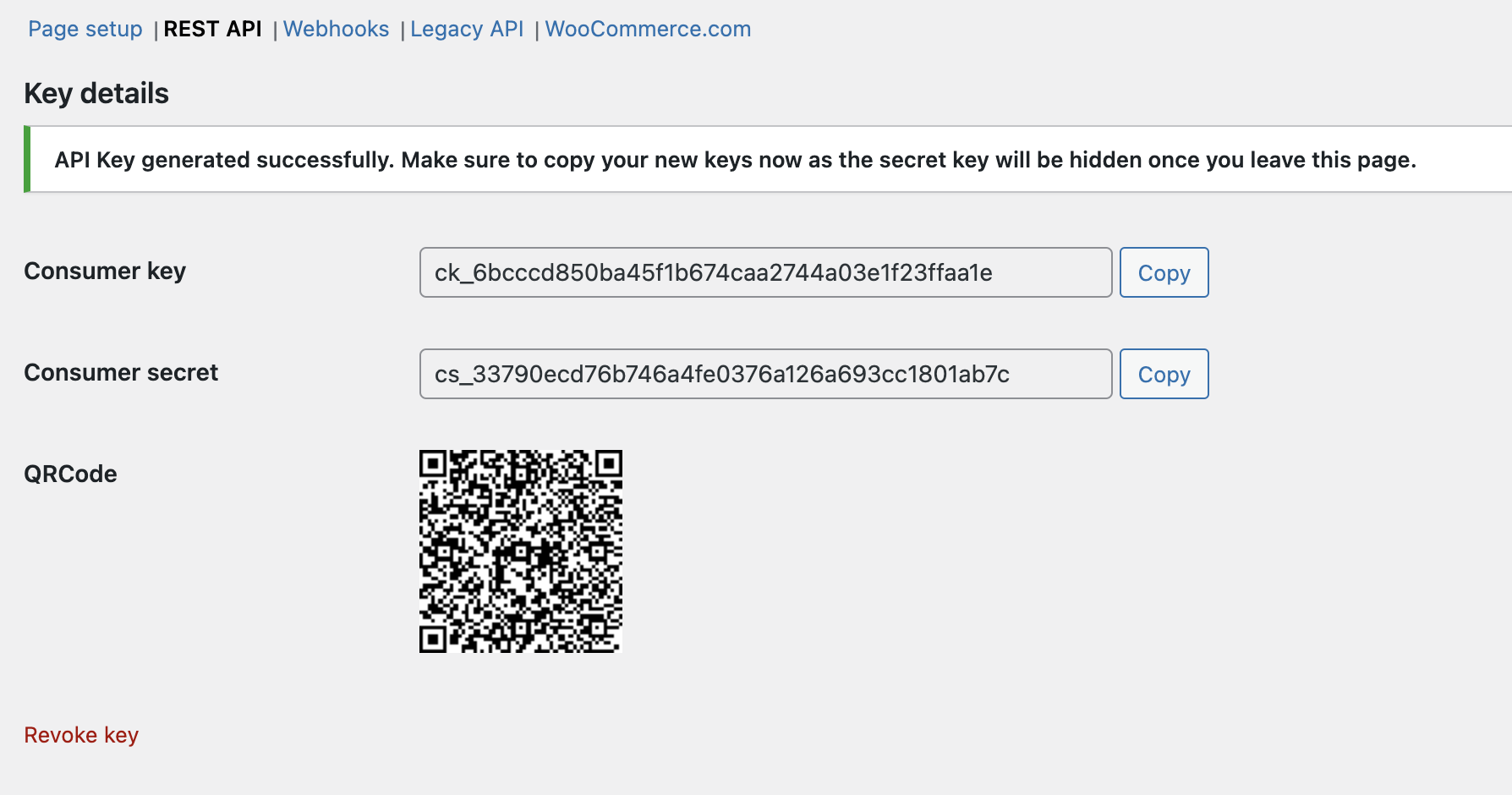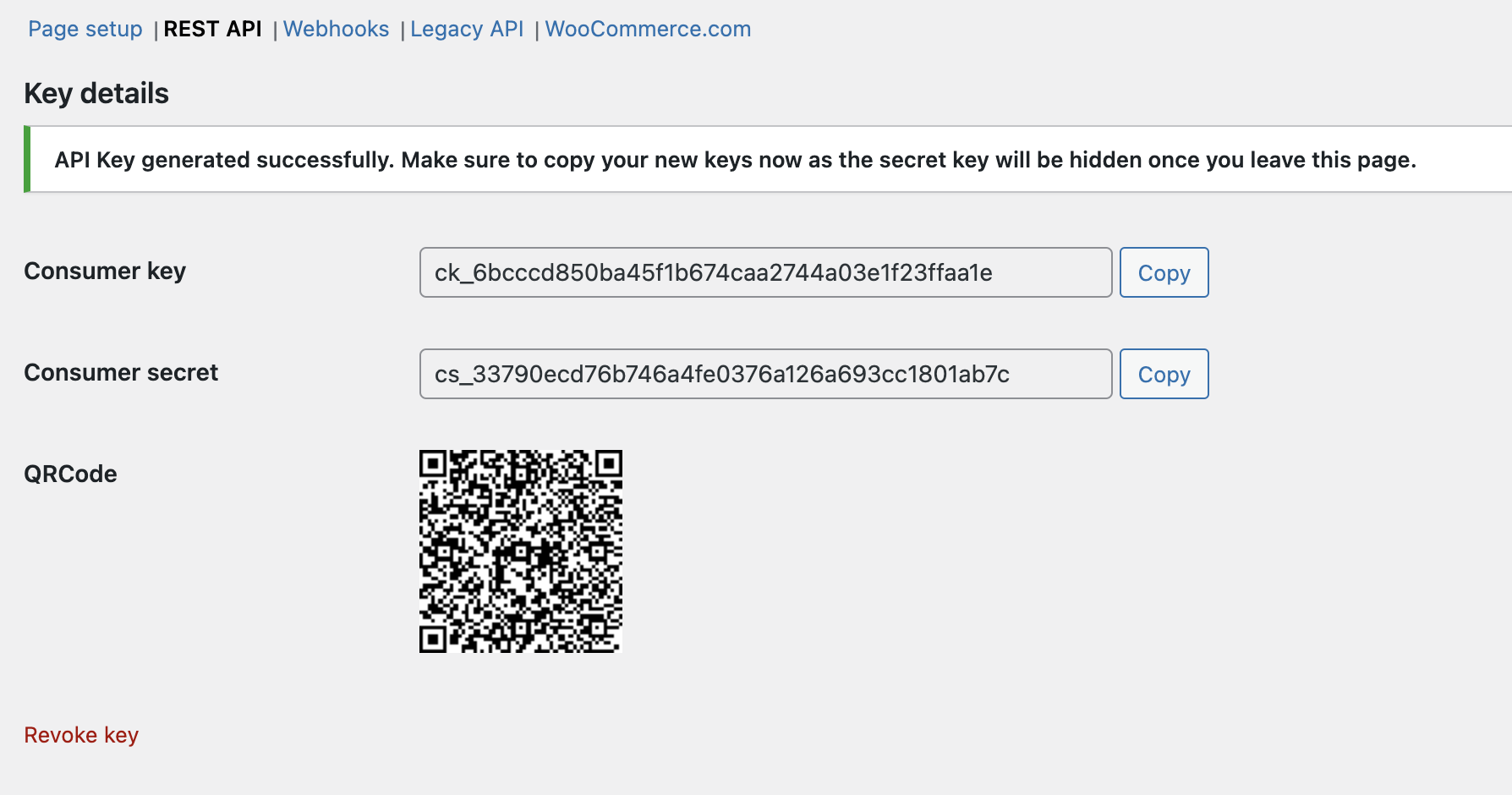 Scroll down to the page and you will find API Secret.
Now you can insert API Secret into your hotglue WooCommerce target settings:
Supported Data
Below is a list of the WooCommerce entities currently supported by the hotglue target:​
Don't see an entity you're looking for? Let us know
Data format
Each entity that can be synced to WooCommerce must be in the correct format before posting.
Products
When sending Products to the WooCommerce target, the file must be named products.json and contain an array of products, which have the following schema.
| Key | Type | Description |
| --- | --- | --- |
| title | string | Title of the product |
| body_html | string | HTML used in the body of product description |
| vendor | string | Vendor name |
| product_type | string | Product category |
| images | array[object] | Array of images to use for product |
| variants | array[object] | Array of variant definitions |
| inventory_quantity | integer | Available quantity. Only available if this is a simple product (no variants). |
Below is a sample products.json
[
    {
        "title": "Burton Custom Freestyle 153",
        "body_html": "<strong>Good snowboard!</strong>",
        "vendor": "Burton",
        "product_type": "Snowboard",
        "images": [
            {
                "src": "https://static2.jonessnowboards.com/1258-large_default/mountain-twin.jpg"
            }
        ],
        "variants": [
            {
                "title": "First",
                "option1": "First",
                "inventory_management": "woocommerce",
                "price": "10.00",
                "inventory_quantity": 50,
                "sku": "123"
            },
            {
                "title": "Second",
                "option1": "Second",
                "inventory_management": "woocommerce",
                "inventory_quantity": 50,
                "price": "20.00",
                "sku": "123"
            }
        ]
    }
]

Updated about 2 months ago
---